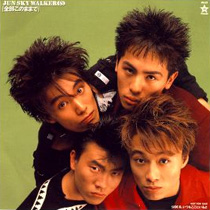 The legendary rock band Jun Sky Walker(s) are re-forming – for real this time. The group, formed in 1980 and hugely popular from the mid-80's until their split in 1997, got back together for a couple of special shows this year. But on the verge of their 20th anniversary, they intend to make it permanent. They have four shows scheduled for November at Wynterland in Kobe, and will embark on a full nationwide tour next year. They recently appeared as "secret guests" on a recording of the TV Asahi variety show "Ame Talk". With several die-hard "JunSka" fans among the celebrity panel, things got pretty heated, ending with vocalist Miyata Kazuya (41) doing a stage dive. Miyata formed the group in 1980 with fellow Jiyuugakuen schoolmates Mori Junta (42, guitar), Itoh Tsuyoshi (41, bass) and Kobayashi Masayuki (42, drums). By the mid-80's they were one of the most popular bands on the "Hokoten", lives performances by dozens of artists on the streets of Tokyo's Harajuku every Sunday. Itoh was replaced by Teraoka Yohito (41) in February 1988, and the band made their major-label debut just three months later. Itoh returned to the lineup after Teraoka quit in 1993. Their hits include "Aruite Ikou" and "Start".
• Orange Range bassist Yoh (23) got married in June, it was revealed recently. His new wife is a fellow native of Okinawa and is five months pregnant.
• Folk singer Yoshida Takuro (61) has canceled more shows due to his ongoing illness. He has been advised to take several weeks' rest for asthmatic bronchitis. He started his national tour on August 21, but developed swollen tonsils before the second show in Tokyo and hasn't been able to perform since. His record company has firmly denied that there is any sign of a recurrence of the cancer for which Yoshida underwent treatment in 2003. They say he will be back for the planned September 30 show in Kumamoto.
• Japan's top models turned out for the 5th "Tokyo Girls' Collection" fashion event on Sunday. Held at the Saitama Super Arena, the event featured 68 models, many of whom have expanded their careers into acting, singing and TV variety. During the interval, the audience of 24,000 were entertained by an eclectic musical mix of Go Hiromi (51), DJ Ozma, and Leah Dizon (20). The fashion show included Yamada Yu (23), who wore the latest wedding dress designs by Katsura Yumi, Tsuchiya Anna (23) and Marie (20).
• It was revealed yesterday that jazz pianist Uehara Hiromi (28) and fashion designer Mihara Yasuhiro (35) recently got hitched and held their wedding ceremony on Saturday. The couple collaborated at the Mihara's show at the Milan Collection in June 2006.
• Former Fuji TV announcer turned aromatherapist Ohashi Maki (30) announced on her blog yesterday that she is six months pregnant. She quit the TV network in 2002 to marry an advertising executive.