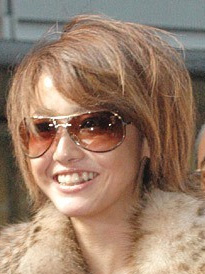 Actress Sawajiri Erika (21) has been spotted on a steamy date with a much older IT entrepreneur. She and "hypermedia creator" Takashiro Tsuyoshi (43), the man behind the media launch of the Roppongi Hills complex and Sony's Aibo robot, were photographed by reporters from women's weekly "Josei Seven". They were seen kissing in Takashiro's Porsche on their way to dinner, after which they both returned to his Tokyo home. Sawajiri was seen leaving the next day. The couple have reportedly been dating since the end of last year and have traveled abroad together. The popular young actress, whose mother is French-Algerian, made her breakthrough in 2005 with the Fuji TV melodrama "1 Littoru no Namida" (1 Litre of Tears) and the movie "Pacchigi!". She is also a singer, using the alias Kaoru Amane, though she recently started recording using just the name Erika. Her latest movie, "Closed Note" opens on September 29. Takashiro was previously linked with actress Sato Eriko (25).
• The full lineup has been announced for next month's 20th Tokyo International Film Festival. Among the contenders competiing for the Tokyo Sakura Grand Prix are: Nakai Yuu's "Habu to Genkotsu" (Bloody Snake Under the Sun), starring Miyazaki Aoi; the Chinese-Japanese "Ho-oh, Waga Ai" (Crossing Over), directed by Jin Chen and starring and produced by Nakai Kiichi; and the Iranian adaptation of Romeo and Juliet, "Hafez", directed by Abolfazl Jalili and featuring Aso Kumiko. The festival runs from October 20 to 28. For more info, see the festival's official website.
• Billy Blanks (52), who became a household name overnight earlier in the years with his military-style Tae-Bo exercise regime, is back in Japan. Over 100 fans turned out to welcome him at Tokyo's Narita Airport. This time he's here to promote the single "Boom Boom Wonderland" and will launch a nationwide tour on September 22. Appealing to his growing legions of Japanese fans, he says this time around he's incorporating sumo moves into his exercises. His previous visit generated a huge boost in sales of his DVDs.