Tohoku Region - Northern Japan
The Tohoku region is made up of six prefectures:
Aomori, Akita and Iwate in the north and Miyagi, Yamagata and Fukushima in the south.
Tohoku means north-east and the area comprises the north-eastern part of Honshu, the main island. It offers a wide range of attractions for the visitor, from skiing and onsen (hot springs) to major festivals and beautiful scenery.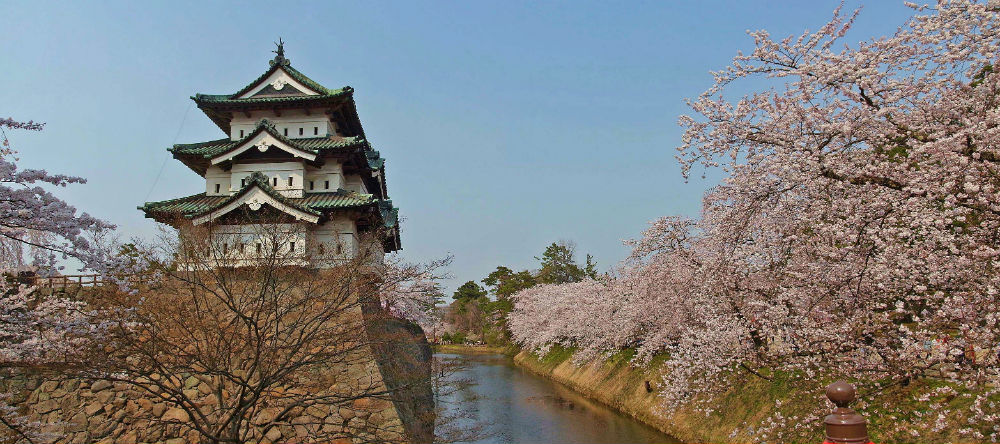 Hirosaki Castle and sakura (cherry) trees in bloom
Perhaps the best time to visit the Tohoku Area in general is during the summer matsuri (festival) season. The region is famous for its well-preserved local culture and this can be best seen in the 'Four Big Tohoku Festivals' at the beginning of August. In particular, the amazing illuminated floats of the Aomori Nebuta Festival attract visitors from all over the world. Late spring is a great time to see Hirosaki Castle and its surrounding cherry blossoms.
The area is largely mountainous and agricultural. It is famous for having some of the country's finest rice, sake (rice wine) and apples. Local craft products include traditional kokeshi dolls and various kinds of lacquerware.
From Tokyo's Haneda Airport, the flight time to Aomori is 1 hour 10 minutes, to Yamagata is 50 minutes. The area is served by the Tohoku Shinkansen (bullet train), which runs from Tokyo to Aomori, making it the country's longest shinkansen route. The trip takes aout 3 hours 20 minutes, while it is about 2 hours to Sendai.
---
Related content