Japan travel guide, information on Japan and Japanese culture.
Feature Content

Japan has something to offer the visitor at any time of year, but one ideal time to visit is autumn, when the brightly colored foliage creates stunning landscapes. The area surrounding Kinosaki Onsen in Hyogo Prefecture is a great place to take in these sights without the tourist hordes.
The Latest News & Entertainment from Japan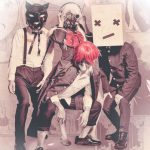 I assume this has actually already been done before, but it strikes me as a clever idea: mix manga and pop. Story Teller Project describe themselves as a "rookie masked band" whose style is "poetry reading and singing, combined with comic pictures!"
---
Emperor Akihito of Japan becomes the first in living memory, indeed in centuries, to abdicate from the throne, bringing the 30-year Heisei Era to a close. His son, Crown prince Naruhito, will formally ascend to the throne at midnight tonight, marking the beginning of the new Reiwa Era.
Fried Sushi
This comic, while showing a popular "UFO Catcher" arcade game, refers to Japan's infamous hunting of whales. In spite of worldwide opposition, Japan recently announced that it would resume its commercial hunting of whales for the first time in 30 years (although hunting for so-called "research purposes" has always continued).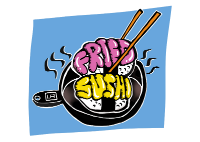 Fried Sushi, a one-panel comic strip that pokes lighthearted fun at Japanese culture, was created by Liam Akin with reverence for the beautiful, unique, yet often baffling world that is Japan.

Planning a trip to Japan?
SIGHTSEEING GUIDES
Browse our extensive sightseeing guide to the whole country, with information on all the major sights.
---
USEFUL INFO
Japan Zone has a wide variety of useful information for the traveler.