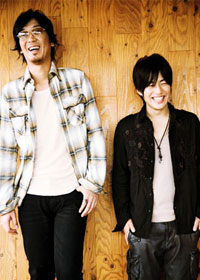 Several stars of the Japanese pop world had babies over the weekend. Aikawa Nanase (32) announced yesterday that she had her first child, a baby boy, on Sunday. She plans to return to work after taking maternity leave. Also intending to continue her singing career is Kiroro vocalist Tamashiro Chiharu (30), who had her second baby also on Sunday. She and her pianist partner Kinjou Ayano (29) both got married in 2005 and had their first babies around the same time. Meanwhile, Kobukuro vocalist Kuroda Shunsuke (30, photo left) became a father for the first time on Saturday, when his wife had a baby boy. Kobukuro are an easy duo to spot – at 193cm, Kuroda towers above his musical partner Kobuchi Kentaro (30).
• Just about everyone from the postwar popular music world was at the Hotel New Otani yesterday to bid farewell to Aku Yu. Over 1,200 people paid tribute to the most prolific Japanese lyricist of the 20th century, who died on August 1 of cancer at the age of 70. Attendees, including Wada Akiko, Yashiro Aki, and Yamamoto Linda, received custom-made bottles of shochu named after two of Aku's biggest hits, Sawada Kenji's "Katteni Shiyagare" and Yamamoto's "Kuruwasetaino".
• Johnny's duo Tackey and Tsubasa are to release their first greatest hits album on October 17. The date is Imai Tsubasa's 26th birthday. They're using an unusual marketing gimmick to promote sales – a series of 55 wallpaper images for mobile phones. A unique serial number will come with each album, and 47 of the images will only be downloadable from within each of Japan's 47 prefectures. The other eight images will be available nationwide. So fans wanting the whole set will, in theory, have to buy 55 albums and travel the length and breadth of the country.