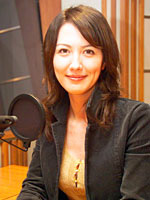 It seems that talento and former news announcer Yamamoto Mona (31) is back with her old boyfriend. Today's issue of weekly gossip magazine "Friday" has photos of her in a romantic clinch, this time not with married politician Hosono Goshi (36) but with a famous game software creator. Yamamoto's career was just taking off a year ago when her romance with the 40-something "M-san" was reported by Friday. But in September 2006, her affair with the handsome Diet member Hosono was exposed and she was fired from the "News23" show after just a week. She stayed out of the spotlight for a couple of months before tentatively re-starting her career with the support of comedian Kitano "Beat" Takeshi on New Year's Day (she is managed by his Office Kitano). This year has seen her making more and more regular appearances on the variety show circuit. According to the magazine article, she and her ex-boyfriend are back together and spent three nights at the end of August on the luxury resort island of Pamalican in the Philippines.
• Japan's first-ever Academy Award winning actor, Nancy Umeki died recently of cancer at a retirement home in Missouri. She was 78. Umeki won her Oscar for her supporting role in the 1957 Hollywood movie "Sayonara". Born in Otaru in Hokkaido, she became a jazz singer on US military bases and moved to America in 1955. An appearance on TV soon led to her first movie role. In "Sayonara", she played a young woman in postwar Japan who falls in love with an American serviceman, but their romance ends in tragedy. Following her Oscar success, she had a successful career on Broadway. She retired from acting in 1972 and all but disappeared. She was married twice.
• Miike Takashi's "Sukiyaki Western Django" received a five-minute standing ovation after its late-night official screening at the Venice International Film Festival. After earlier mixed reviews, the enthusiastic reception was a relief for Miike (47) and stars Itoh Hideaki (32) and Momoi Kaori (55), who said "The screening was very late, I was so happy people didn't decide to go home." The movie was shown in front of a full house of 1,000 people from midnight. It is a contender for the Golden Lion award, whose winner will be announced on Saturday.