Musicians
Go Hiromi
(Fukuoka Prefecture, 1955- )
The Peter Pan of the Japanese pop world, Go Hiromi finally decided to call it quits - one last farewell concert tour and then a move to build a new life in a rebuilding New York. Thus ended a remarkable career in the limelight, a career that spanned four decades and spawned 62 albums. A talented self-promoter who once seemed set to create the perfect match with superstar Matsuda Seiko, Go used the flexibility of his adopted stage name to great effect in rebuilding his household-name status in the last few years.
Born Haratake Hiromi on October 18, 1955 in Kasuya, Fukuoka Prefecture, he was scouted by Johnny's Jimusho at age 15 and made his professional debut under his stage name the following year. His debut year was a huge success, seeing the release of his debut single Otoko no ko, Onna no ko (A Boy, a Girl) and an appearance in an NHK Taiga (Period) Drama. And the reward: the Japan Records Newcomer Award.
Pretty soon the newcomer was a big star and by the end of the 70s he had played at the Nippon Budokan, won more industry awards, appeared in eight movies and 20 TV dramas and was named Japan's Top Idol for five years in a row. Go was obviously an exhibitionist, even by showbiz standards and had a habit of going barechested and fondling himself on stage. This of course drove his legions of female fans wild.
One of those fans had grown up to become the leading lady of Japanese pop. Driving ambition had propelled Matsuda Seiko to the top of the idol heap and now she had her sights set on the baby-faced Hiromi. For several years, the pair dropped hints about their mutual admiration and the media speculated wildly. But those were days when stars were not in control of their private lives. Career came first and Seiko was not prepared to sacrifice hers for the sake of this surprisingly conservative (given his onstage image) Kyushu country boy. She went on to marry actor Kanda Masaki and Go got hitched to Nitani Yurie. They had two children but the marriage ended in divorce in 1998, a time when Go's career had been sliding for some time.
The day after his divorce saw a new beginning for Go. The release of a tell-tale book called Daddy had the media in a frenzy. The Hiromi-Seiko dream couple still lived in many people's minds and fans bought the book in droves and combed it looking for the gory details on why it had never materialized. It was all there and more and the book was a huge bestseller. It was also the perfect publicity for a relaunch of his music career.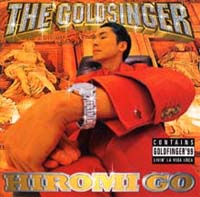 The 44-year old Go belied his age as he strutted to the Japanese version of Ricky Martin's huge hit La Vida Loca. A "guerrilla live" event on the streets of Tokyo's trendy Shibuya district, the catchy "Acchi-chi achi" refrain, the latin beat and Go's inimitable stage antics made Goldfinger 99 a mega-hit that stayed in the Top 10 for more than seven months. Suddenly Go was everywhere, notably in car commercials chanting his own name. 2000 saw the dream duet - Go and Matsuda singing the ballad True Love Story - but Go found love further afield, announcing plans to marry New York born Oneda Nami in November 2001 (Oneda, 15 years younger than Go, is the daughter of a wealthy venture capitalist). After a final album release, promotion tour and series of year-end dinner shows, the couple will be set to start a new life in the US.
---
Links