Japan Entertainment News - February 2009
| | |
| --- | --- |
| Tamaki Koji, Ishihara Mariko Together At Last | February 26, 2009 |

Singer Tamaki Koji (50) and actress Ishihara Mariko (45) have entered the latest stage of their long and bizarre relationship. They registered their marriage yesterday at the municipal office in the Denenchofu suburb of Tokyo, some 24 years after their relationship began. Back in the early 1980s, Tamaki was married but became besotted with the young Ishihara, sending her a set of red underwear as a sign of his love. Their affair was exposed in the media in 1985, and Tamaki divorced the following year but the couple broke up soon afterwards. Over the years, Ishihara had relationships with a host of celebrities, but largely disappeared from Japanese show business. She was back in the limelight in 2006, when in her autobiography she broke a showbiz taboo by naming many of those celebrities. About a fifth of the book was about her relationship with Tamaki, and she went into great detail about how she contemplated suicide when their affair was exposed. She also revealed that in February 1986 she was hospitalized for more than a month with a broken vertebra after he had beaten her. The book was later made into a movie. One of Japan's most recognizable music stars, Tamaki formed the rock band Anzen Chitai in 1973, though it wasn't until the early 80s that they had their major record label debut and achieved stardom.
• Former pin-up idol Komukai Minako has been found guilty on charges of drug possession and use. She admitted to the charges, allowing the judge to issue a speedy verdict at the Tokyo District Court today. She received an 18-month sentence, suspended for three years, and was in tears as she spoke briefly to reporters outside the courthouse.
Interesting story? Then add it to your favorite social site:







| | |
| --- | --- |
| Death Can Bring Happiness | February 25, 2009 |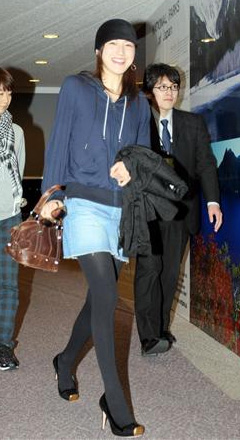 The local media is still buzzing with Japan's double Oscar win on Monday. And even the author of the book which inspired the movie, but who refused to lend his name to the project, has been enjoying the limelight. Aoki Shinmon wrote "Noukanfu Nikki" in 1996, based on his ten years working as a noukanshi (literally, "encoffining master"). A noukanshi's job is not disposal of the dead. Rather it is putting the dead at ease for the journey to the next world," he said in an interview this week. Actor Motoki Masahiro was so inspired by the book that he visited Aoki to ask if he could adapt it for the big screen. Aoki originally agreed to the project but was unhappy when the final script changed the story's location from his native Toyama Prefecture to the northern Yamagata. He refused to allow his name or book title to be used, which led to the movie's change of name. But Aoki and others in his profession have been particularly impressed with Motoki's performance, which critics have said is his best ever. After the Oscar win, publishers Bungeishunju announced that they would be printing an extra 40,000 copies of Aoki's book. But following the intense media attention that followed the Oscar, they quickly increased that by an additional 50,000.
Meanwhile, Motoki's co-star Hirosue Ryoko (28) was all smiles as dozens of reporters greeted her arrival at Narita Airport yesterday. She shared a flight from Los Angeles with actor Hugh Jackman (40), who hosted the Oscar ceremony and is in Japan to promote his blockbuster "Australia."
Interesting story? Then add it to your favorite social site:







| | |
| --- | --- |
| Takita Yojiro Enjoys Oscar Limelight | February 24, 2009 |

The Japanese show business industry has been basking in the glory of the country's two wins at the Academy Awards, which we announced here yesterday. Japanese productions won two Oscars, both for the first time in their category. The first to be announced was the animated short "Tsumiki no Ie." But the bigger prize was taken by "Okuribito" (Departures), chosen as best foreign language film. Director Takita Yojiro (53) has come a long way since his 1981 debut as a director of soft porn. "Chikan Onna Sensei" (Pervert Lady Teacher) was the first in a series of more than a dozen he made. In recent years, he's had more mainstream success with films like "Onmyoji" (2001) and "Battery" (2007), but has reached a peak with his 43rd movie. He was emotional after the awards ceremony and tearfully thanked the cast and dozens of crew members who paid their own way to accompany him to Los Angeles. As often happens in Japan, it was only when Okuribito started gaining a reputation at film festivals overseas late last year that it got any media attention at home. Stars Motoki Masahiro (43) and Hirosue Ryoko (32) are already well established names, so the Oscar is mainly Takita's chance to enjoy the full limelight.
• Actor Nishimura Kazuhiko (42) is a father again. He announced on his blog yesterday that his wife, shodo (calligraphy) artist Kunishige Tomomi (30) gave birth to their second child last weekend. They married in 2006 and had a son the following year. Nishimura was previously married to actress Tachihara Mai (39). Meanwhile, actor Tanihara Shousuke (36) is to be father for the third time, according to today's issue of weekly magazine "Shuukan Josei." He and his wife Emi (32) have two children, their elder son being from her previous marriage to actor Ishida Issei (34). She was already pregnant when she and Tanihara married in March 2007. They had a daughter the following October.
• With an 11-year career behind her, J-pop star aiko (33) finally has her first No.1 single. She's had 5 chart-topping albums but the best she's ever managed until now on the Oricon singles rankings was No.2. That has now changed with the success of "Milk/Nageki no Kiss," which entered the latest chart at No.1. On top of the album chart are rock band Unicorn, who recently reformed 15 years after they split. "Shamble" is their 7th original album. They split up in 1993 and members pursued solo careers until they decided to revive the band in the spring of last year. The band is fronted by Okuda Tamio, who has had by far the most successful solo career over the last decade.
Interesting story? Then add it to your favorite social site:







| | |
| --- | --- |
| And the Oscar for Best Foreign Language Film Goes to... | February 23, 2009 |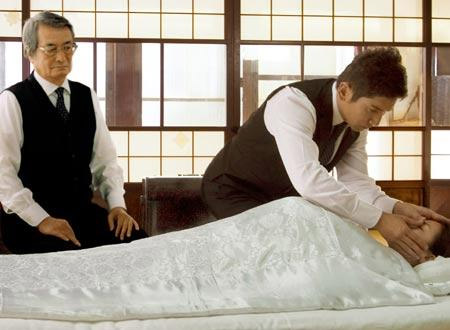 "Okuribito" (Departures) has been named as this year's best foreign language film at the 81st Academy Awards. Widely considered the second-favorite for the award, behind Israeli film "War With Bashir," the movie continued on its strong performance at festivals around the world over the last few months. Joined on stage by stars Motoki Masahiro (43) Hirosue Ryoko (28), Hirosue Ryoko (28) and Yo Kimiko (52), director Takita Yoji (53) gave a brief acceptance speech in very broken English. The award meant that Japan was two for two on the night. "Tsumiki no Ie," an animated short by Kato Kunio (31), took Japan's first ever Oscar in that category and the the country's first in six years. Okuribito is a moving and often humorous drama of human dignity and family bonds. Motoki plays an out-of-work cellist who leaves Tokyo to return to his hometown to become an undertaker, ritually cleansing and placing the deceased into coffins at funeral ceremonies.

Interesting story? Then add it to your favorite social site:







| | |
| --- | --- |
| All's Well With Shaku Yumiko | |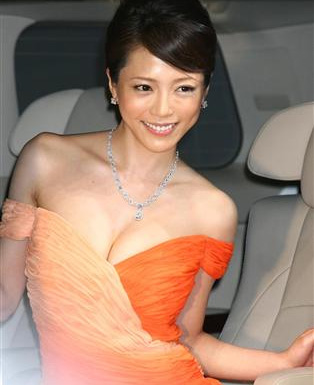 Actress Shaku Yumiko (30) announced online yesterday that she had an autoimmune disease disease, but later deleted the entry from her blog. She wrote that she had been diagnosed with Guillain-Barré syndrome, which was causing the mild paralysis she had been experiencing in her arms and legs. But when he read the details of the blog entry, her doctor contacted her to clarify that she was suffering from a milder condition affecting her peripheral nervous system. Fans had been expressing concern for the popular actress and it was decided to simply delete the original entry. She wrote a new entry that didn't mention the syndrome and reassured fans that she was fine and well on the road to recovery. Shaku wrote on the blog last week that she had come down with a severe cold and high fever. When she felt unable to move her limbs on Saturday she decided to see a doctor and received what she thought was the stark-sounding diagnosis, though she was assured she should recover fully with a week's rest. Shaku is currently starring in the Fuji TV drama series "B-gata Onna ga Kekkon Suru Houhou."
• "Tsumiki no Ie," an animated short by Kato Kunio (31), has taken Japan's first ever Oscar in that category and the the country's first in six years. Though the movie's title translates as House of Blocks, Kato chose to use the French "La Maison en Petits Cubes" for its international release. It is the story of an elderly man living on top of a brick building surrounded by encroaching floodwaters. The man continues to painstakingly add bricks to the top of his dwelling to avoid being swallowed up. One day, he accidentally drops his pipe into one of the underwater rooms. He follows it as it sinks downward. Each new floor brings back an old memory, such as time he spent with his deceased wife and their daughter.
Interesting story? Then add it to your favorite social site:







| | |
| --- | --- |
| The Koda Sisters Together At Last | February 20, 2009 |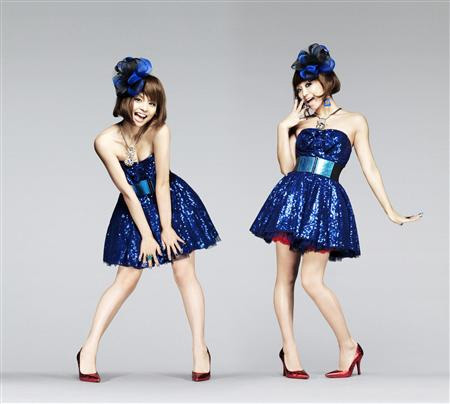 The J-pop sisters Koda Kumi (26, photo right) and Misono (24, photo left) are teaming up for the first time. They are scheduled to release a joint single, "It's All Love" by chaku-uta download on February 25 and on CD in March and will be appearing on the music show circuit together. Though the younger of the two, it was Misono who first achieved popularity from her debut in 2002 until 2005 as vocalist with the group Day After Tomorrow. One reason for the breakup of the group was said to be Misono's considerable weight gain, and she was then completely eclipsed by the success of her big sister. Kumi, who debuted in 2000 and had limited success in the club music scene, almost overnight became J-pop's biggest seller in 2005 and again in 2006 with her upbeat dance numbers, regular TV appearances and "ero-kakkoii" (sexy cool) image. Misono started getting her career back on track in 2006, but more on the TV variety circuit than in music and she is now a regular on such shows as "Quiz! Hexagon." Both sisters, who hail from Kyoto, clearly enjoy the limelight, share a raucous sense of humor and are said to be close. But they have only ever appeared on TV together once, on "Hey! Hey! Hey! Music Champ" last December, and have performed together only in private.
• Up and coming comedians are always glad to get a bit of extra publicity. So it's no surprise that Kasuga Toshiaki (30) of the duo Audrey is making the most of a story in today's issue of weekly gossip magazine "Friday." The story includes photos of Kasuga and a young woman leaving his shabby Tokyo apartment, describing her as small and a bit chubby but beautiful. Kasuga insisted at a hastily arranged press conference late last night that they are still in the early stages of a relationship, which he fears may have been jeopardized by the magazine story. Audrey, made up of Kasuga and Wakabayashi Masayasu (30), made their breakthrough at the end of last year but are still living the life of struggling artists. In their skits, Kasuga has joked about living in an old wooden apartment building, in a single 6-tatami mat room with no bath. He says he washes using baby's diaper wipes.
Interesting story? Then add it to your favorite social site:







| | |
| --- | --- |
| Not So Happy End for Suzuki Shigeru | February 19, 2009 |
One of Japan's most famous veteran rock guitarists has been arrested for marijuana possession. Police stopped to question Suzuki Shigeru (57) on Tuesday afternoon when his car was spotted illegally parked in a warehouse district near Fuji TV's Tokyo Bay studio. Thinking his behavior seemed suspicious, officers searched the car and found about 1g of marijuana in a tupperware container. Suzuki admitted ownership of the drugs and was arrested on the spot. It's his first arrest, but police decided to also search his home for other drug-related items. Suzuki formed his first band in 1968 and was invited by Hosono Haruomi (61, later of YMO) to join Happii Endo (Happy End) the following year. The band were pioneers of the Japanese rock scene. In the years following the breakup of the band in 1974, Suzuki teamed up with Hosono, Matsutoya Masataka (57) and other big names to form such bands as Caramel Mama, Tin Pan Alley and Hucklebuck. Suzuki recorded his first solo album in Los Angeles in 1975. He has played as a support musician for a host of artists over the years and has taken part in several charity recordings.
• Movie director Danny Boyle (52) was in Tokyo to promote his latest Oscar-nominated film. Helping him promote "Slumdog Millionaire" was talento Mino Monta (64, profile), host of the Japanese version of the global quiz show that is central to the movie. The pair dined on a lunch of katsu curry, with the katsu (pork cutlet) being a pun on the Japanese word for "win." If Slumdog does take the best picture Oscar later this month, it will be the first movie made outside the U.S. to do so since "The Last Emperor" in 1987.
Interesting story? Then add it to your favorite social site:







| | |
| --- | --- |
| A Baby for Ucchan | February 18, 2009 |

One of Japan's top comedians is soon to be father for the first time. Uchimura Teruyoshi (44) of the duo Ucchan Nanchan announced on Monday that his wife, former TBS announcer Tokunaga Yumi (33), is expecting their first child in June. Romance between the couple was first reported in April 2003 after Tokunaga had appeared on the TV Asahi variety show "Uchimura Produce," though she was already married at the time. That marriage ended the following September and she married Uchimura in April 2005. His comedy partner Nanbara Kiyotaka, married since 1993, missed their wedding following an accident during the recording of a show two days before.
• Former pin-up idol Komukai Minako (23) has been released on bail. Arrested on January 22 for possession of stimulant drugs, she was formally charged on February 12. She posted bail of ¥1.5 million on Monday.
Interesting story? Then add it to your favorite social site:







| | |
| --- | --- |
| Gekidan Hitori, Ohsawa Akane Wed | February 17, 2009 |

Another big showbiz wedding was announced yesterday. Following actress Miyazawa Rie's good news at the weekend, it was the turn of comedian Gekidan Hitori (32) and talento Ohsawa Akane (23). The couple have been quite public about the relationship for some time and the news that they tied the knot on February 16 came as no surprise. They are scheduled to make a formal announcement at a hotel press conference in Tokyo this afternoon. Ohsawa, the grand-daughter of charismatic former baseball player and manager Ohsawa Keiji (76), has been in the limelight since becoming a model at the age of three. A few years ago she switched to TV, helped mainly her by relationship with a popular comedian who got caught up in a rape scandal (story). She played the story for laughs and the wave of publicity helped her gain a foothold in the TV variety circuit. She hinted at the marriage earlier this month during a launch event for her autobiography, while her new husband is already an accomplished writer. Real name Kawashima Shougo, he is the son of a JAL pilot and flight attendant and spent several years of his youth in Alaska. He began his comedy career while in high school and was in a manzai duo for several years. He went solo in 200 and developed a growing reputation both as a "pin geinin" (solo comedian), actor and writer. He published the novel "Kagehinata ni Saku" in 2006, which was made into a movie last year. His debut as a song lyricist will appear on the upcoming album by J-pop duo Chemistry.
Interesting story? Then add it to your favorite social site:







| | |
| --- | --- |
| Miyazawa Rie Engaged, Expecting | February 16, 2009 |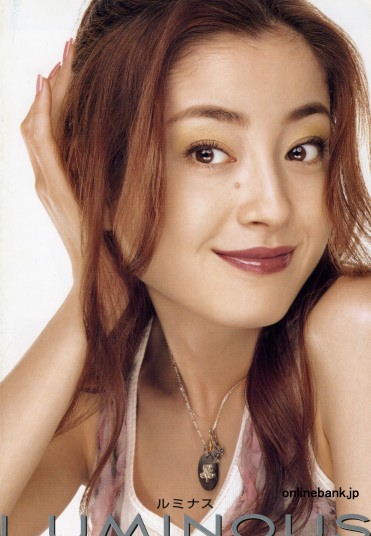 The big news over the weekend was the announcement by actress Miyazawa Rie (35, profile) that she is expecting a baby and engaged to be married. Six months pregnant, she plans to continue in her current role in a theatrical production until it ends its run on February 28. She is appearing in the play "Piper" at the Bunkamura Theater Cocoon in Shibuya, Tokyo. The play is being produced by Noda Hideki (53) and Miyazawa faxed her announcement to the media via Noda's production company. The fax didn't give her fiance's name but he is said to be a business entrepreneur who she first met in 2007. Miyazawa has been romantically connected with many celebrities over the years, including retired soccer star Nakata Hidetoshi (32, profile) and kabuki actor Ichikawa Ebizo (31). Most recently, she was in a serious relationship with jewelry designer Mikita Takashi (37), though last September she was photographed in a clinch with British director David Leveaux, who directed her in a Tokyo production of Henrik Ibsen's "A Doll's House." But her most famous relationship was her engagement at the age of 19, and the peak of her popularity, to rising sumo star Takahanada (now Takanohana Oyakata, 36). That engagement sent the media into a frenzy, which was only worsened when the marriage was called off. Miyazawa's career went off the rails for a few years, but she has since built a solid career as a stage and movie actress. She has won awards for her roles in such movies as "Tasogare Seibei" (Twilight Samurai, 2002).
Interesting story? Then add it to your favorite social site:







| | |
| --- | --- |
| A Shock for Aoi? | February 11, 2009 |
Signs of a possible rift between acting couple Miyazaki Aoi (23) and Takaoka Sosuke (27). According to tomorrow's edition of weekly magazine "Josei Seven," Takaoka was recently spotted spending several hours at the Tokyo apartment of young pin-up idol Kinbara Asuka (19). The pair were seen holding hands as the entered the building, after she had attended a birthday party for the actor last Friday and he accompanied her home by taxi. He was seen leaving the building about three hours later, though Kinbara's management agency insisted he only saw her as far as the front door. Miyazaki is reported not to have attended her husband's party. But she said at a PR event for her latest movie yesterday that she knows all about the story and insisted that everything is fine. The couple have been married about a year and a half.
Interesting story? Then add it to your favorite social site:







| | |
| --- | --- |
| Akko's Valentine Gift for Will Smith | February 10, 2009 |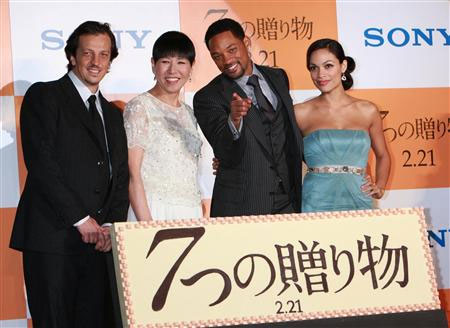 Hollywood star Will Smith (40) was munching down on some serious Valentine's chocolate in Tokyo yesterday. In town for the Japan premiere of "Seven Pounds," he and co-star Rosario Dawson (29) and director Gabriele Muccino (41) were joined on stage by Japan's "god sister" of soul Wada Akiko (58, profile). She presented Smith with a giant 40kg bar of chocolate, which he proceeded to try and take a big bite out of. The veteran singer said, "I'm a big fan and I got so excited about meeting him I couldn't sleep last night!" The movie opens in theaters here on February 21.
•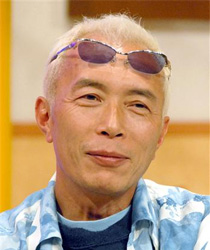 A manager for top talento Tokoro Joji (54, profile) was fired last year for embezzling from his boss, it was revealed in today's issue of weekly magazine "Josei Jishin." Tokoro's agency acknowledged the story, saying the man was fired last July after about ten years in charge of Tokoro's TV commercial contracts. He is believed to have embezzled about ¥50 million from the star's various promotional appearance fees. But he has promised to repay the money so his former employers are not planning to have him prosecuted. "We are leaving everything in the hands of our lawyers and no longer have direct contact with him."
Interesting story? Then add it to your favorite social site:







| | |
| --- | --- |
| Big Audience for Iijima Ai Tribute | February 09, 2009 |

Last Friday's 300th edition of the "KinSma" variety show, a special dedicated to the late talento Iijima Ai, recorded an impressive audience rating of 18.8%. A regular panelist on the TBS show hosted by SMAP leader Nakai Masahiro (36), Iijima was found dead in her Tokyo apartment last Christmas at the age of 36. She was said to have been already dead a week when she was found, and there was a lot of speculation as to whether it was suicide. But the cause of death was recently announced as pneumonia. KinSma was one of several shows that benefited from her broad appeal until she retired from showbiz in March 2007, citing health problems. A former porn star, she was the epitome of the "haranbanjo" (many ups and downs) life and was a straight-talking spokesperson for many issues, including teenage sex and AIDS. In addition to TV and radio appearances, she wrote a best-selling book about her turbulent life, which was made into a drama series and a movie.
• Journalist and TV regular Torigoe Shuntaro (68) revealed that the rectal cancer he had operated on several years ago has spread to his liver. He said on the "Super Morning" show today that the cancer had reached his lungs two years ago and he had undergone chemotherapy. He will be hospitalized for surgery this week and will be absent from the show for about two weeks.
• Dragon Ash front man Furuya Kenji (29, profile) and talento Megumi (27) became parents for the first time last Friday. The baby boy was born a few days late but was said to be healthy. The couple married in July of last year.
Interesting story? Then add it to your favorite social site:







| | |
| --- | --- |
| Tokui Yoshimi, Natsukawa Yui An Item | February 06, 2009 |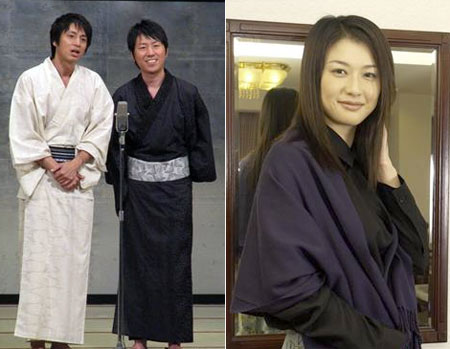 Comedian Tokui Yoshimi (33, photo left) and actress Natsukawa Yui (40, photo right) are an item, according to today's issue of weekly magazine "Friday." Tokui was spotted on several occasions visiting Natsukawa's condominium in Tokyo at the end of January. Both the Yoshimoto Kogyo agency, which represents most of the country's top comedy acts, and Natsukawa's management have confirmed their relationship. One half of the popular duo Tutorial, Tokui has topped the rankings of most handsome male Yoshimoto star for the last three years and has been described as something of a playboy. But this is the first time for the agency to confirm such a rumor. The couple worked together for several months last spring on the Fuji TV drama series "Murina Renai," in which they played a less than romantic pair. Rumors of a relationship started when they were spotted at a yakitori restaurant together in September, and those rumors were later confirmed by actor Sakai Masaaki (62). He had also appeared in the Fuji drama and said the pair were dating. But the media was already focused on a reported relationship between Tokui and popular badminton player Shiota Reiko (25) and the rumors about Natsukawa soon faded away. Then last week on the NTV "Shabekuri007" variety show, Tokui revealed that though had had asked Shiota to go out with him about two years ago, she had turned him down saying she needed to focus on preparations for the Beijing Olympics. Tutorial formed as a duo in 1998 but leaped to national fame in 2006 when they won the M-1 Grand Prix comedy contest. An accomplished actress, Natsukawa is one of the more private figures in Japanese showbiz.
• Former Judy and Mary vocalist Yuki (36) revealed yesterday that she is expecting a baby in May. Her first child, born in 2003, died of SIDS. She and her husband, Yo-King of the rock band Magokoro Brothers, had a second son in 2006. Judy and Mary were a major chart-topping J-pop unit from 1992 until 1999, with a brief revival in 2000-01.
Interesting story? Then add it to your favorite social site:







| | |
| --- | --- |
| Rapper Arrested For Cocaine Use | February 05, 2009 |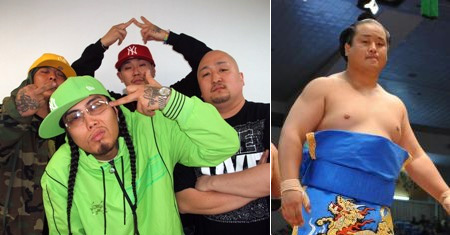 The leader of the popular hip hop group Nerimazafakka has been arrested for use and possession of cocaine. The arrest of group leader D.O (30, real name Sudo Shigeyasu) follows that of two other members and former sumo wrestler Wakakirin (25, real name Shizukawa Shinichi) for marijuana possession on January 30. Sudo, who says he has known the disgraced wrestler for the last few years, runs the "D Office" CD production company in Roppongi, central Tokyo where last week's arrests took place. The area is home to many foreign embassies and a popular nightlife district for the ex-pat crowd, and is where the majority of reported drug arrests seem to happen. "I bought it from a foreigner in Roppongi" seems to be the standard phrase associated with such arrests. The group name Nerimazafakka is a pun based on the Tokyo suburb Nerima and the English slang "mother f@cker."
Talento Yamamoto Mona (32) just can't seem to shake off that erotic image, as she showed a bit more skin than she planned at a PR event yesterday. On the comeback trail after an affair last year with a married baseball star almost derailed her career, she needs to avoid anything too scandalous. Her recent revelation that she's in a serious relationship with a handsome - and single - property investor had the media speculating that maybe she's ready to settle down. So the audience was abuzz when she was announced as a surprise guest at a preview screening of the movie "Defiance" in Tokyo yesterday. Starring Daniel Craig, it's a WWII story about Jews banding together to resist the Nazis, a suitably serious theme for the new Mona and maybe why she wore a knee-length dress rather than the miniskirts she's favored recently. But as she raised a sheet of paper to read out her speech, it got caught in her dress and flashed her shapely thighs. A practical joke by the gods of the entertainment world, perhaps. After the event, Mona was coy when reporters asked about her wedding plans and whether her boyfriend had proposed. But she made it clear that their relationship was headed in that direction.
Interesting story? Then add it to your favorite social site:







| | |
| --- | --- |
| Celebrity Wedding News | February 04, 2009 |

Some wedding news...and rumor. Talento Diamond Yukai (46, photo left) is engaged to get married for the second time, he revealed yesterday. The former vocalist of popular 90s rock band Red Warriors is to tie the knot on January 7 with an office worker said to be in her 30s. The couple have been living together for about a year and are currently awaiting completion of a new house in Tokyo. Yukai made the wedding announcement while filming the "Odoru! Sanma Goten!" variety show yesterday. He said, "Up to now I've always gone for a woman who is like a rose with thorns. But this lady is like a dandelion discovered during a walk in the country. Dandelions bloom for a long time!" Yukai made his debut with Red Warriors in 1986 and had his big screen debut the following year with the lead role in "Tokyo Pop." More recently, he had a part in Sophia Coppola's "Lost in Translation" (2003).
And enka singer Kitayama Takeshi (34, photo right) is said to be on the verge of marriage to the daughter of his mentor. Kitayama has been a "tsukibito" (apprentice) to veteran singer Kitajima Saburo (72, profile) since 1998. And for the last few years he has been dating his daughter Satoko (35), who works for his Kitajima Ongaku Jimusho management agency. The singers, and possible future in-laws, appeared together at a traditional setsubun ceremony at a temple in western Tokyo yesterday, throwing out beans to the crowd to usher in good luck for the year ahead.
• Popular rakugo veteran Katsura Utamaru (72) was rushed to a Yokohama hospital on Monday. He was diagnosed with pulmonary emphysema and told he would need to take at least a week's total rest. As he was scheduled to attend a rakugo event in Tokyo on Monday evening, he tried to leave the hospital with an IV drip. Doctors refused to let him leave saying he would endanger his life. He asked fellow rakugo-ka Sanyutei Koyuza (61) to attend the event in his place. He is expected to recover in time to film the February 14 edition of NHK's "Shoten," the rakugo show for which he is the emcee.
Interesting story? Then add it to your favorite social site:







| | |
| --- | --- |
| Ayu Goku to Grace New Single | February 03, 2009 |

Popular manga-ka Toriyama Akira has been commissioned to draw an illustration of J-pop queen Hamasaki Ayumi (30, profile) for her latest single. The connection of course is that "Rule" is the theme song for the global release of "Dragonball," the Hollywood adaptation of Toriyama's mega-popular manga. The first pressing of the single will be printed with the image of Hamasaki as the character Goku on both the CD and an accompanying DVD. It is the first time for Toriyama to create an original illustration for a recording artist. He said, "Actually I'm really not good at caricatures, and for a while I regretted taking on this job. Hamasaki-san has so many fans and I hope they don't get angry that the image doesn't resemble her!" Called "Dragonball Evolution" for its Japan release, the movie opens here on March 13. The double-A side single "Rule/Sparkle" goes on sale February 25.
• Actor Takahashi Hideki (64) revealed yesterday that he was recently hospitalized with a broken back. Appearing with his wife Mieko (60) at an award ceremony in Tokyo, he said he slipped on an icy road while filming a drama in Fukushima on January 14. He injured his back and was rushed to a nearby hospital, where he was diagnosed with a broken lumbar vertebra. The next day he was transferred to a hospital in Tokyo, which he left only last weekend. At yesterday's event, where he and his wife were named as Best Cruise Couple for 2009, he said he was wearing a corset and his injury wuld take about three months to heal. He heads back to Fukushima on February 20 to continue filming the TV Tokyo detective drama series "Sousa Kenji - Chikamatsu Shigemichi."
• The NTV network yesterday said that they will be further reducing the number of live terrestrial broadcasts of Yomiuri Giants games in the upcoming baseball season. The number of broadcasts, once staple viewing for families across the nation, will be cut by 16 to 26 games including the opening three games of the season and those against perennial rival the Hanshin Tigers. Baseball in general has seen declining TV audiences over the last few years, with the Giants in particular losing their once overwhelming appeal, and falling ratings have made it harder to attract advertising. The number of games to be shown on NTV's satellite channels will be increased. NTV is under the same corporate umbrella as the Yomiuri team.
• Johnny's Jimusho duo Kinki Kids have extended their Guinness World Record for consecutive No.1 singles to 28. With "Yakusoku" reaching the top of the latest Oricon chart, they now have a No.1 single in each of the last 13 years. Meanwhile on top of the album chart is Koda Kumi's "Trick."
• Talento Hazama Kampei (59) posted a video entry to his blog yesterday to mark his crossing of the International Dateline in the Pacific Ocean. He recently embarked on a walk around the world, crossing the oceans by yacht. The endeavor is expected to take up to three years, though Hazama has considerable experience of long-distance endurance events. He expects to reach land in Los Angeles at the end of this month or early March.
Interesting story? Then add it to your favorite social site:







| | |
| --- | --- |
| 22 Idols Graduate From Hello! Project | February 02, 2009 |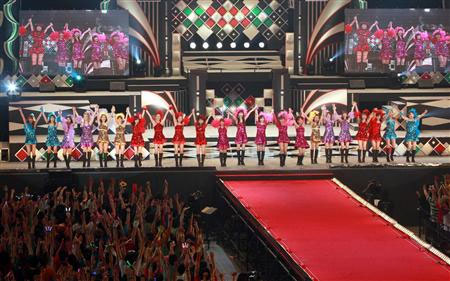 22 members of the Hello! Project troupe held an emotional "graduation ceremony" concert at Yokohama Arena yesterday. Among those leaving the nest are Matsuura Aya (22), Nakazawa Yuko (35) and Abe Natsumi (27). Amongst the huge troupe that has produced 78 idol singers, the first and most famous group is Morning Musume (profile), who held their debut concert at the same arena in 1998. Nakazawa and Abe were among that original lineup, which has changed countless times over the last 11 years. They have since gone on to other groups, such as Melon Kinenbi and Country Musume, or pursued solo singing or acting careers but have remained part of the Hello! Project. With the departure of the 22, the troupe's average age drops from 18 to 15.
• Actress Kawashima Naomi (48) had a busy day yesterday, as she finally tied the knot. She flew into Tokyo from Thailand, where she was making a movie, and went straight to the Shibuya municipal office in central Tokyo to register her marriage to pastry chef Yoroizuka Toshihiko (43). Kawashima spoke with reporters after she finished the paperwork, saying she chose the February 1 as it was the anniversary of their first date. The couple had been engaged for over a year and filled in the paperwork on New Year's Day. She said they plan to have a church ceremony and honeymoon in Tuscany, Italy in June followed by a lavish reception in Tokyo on June 23.
• Actor Sugawara Bunta (73) said on his Nippon Housou radio show yesterday that he recently won a battle against cancer. He was diagnosed with cancer of the bladder in 2007 and underwent radiation and chemotherapy treatment that allowed him to avoid having an organ transplant. He said he was delighted with the treatment, which led to a complete recovery and allowed him to continue working.
Interesting story? Then add it to your favorite social site: