---
The following is a message from Sen Soshitsu, Ura Senke Grand Tea Master XV:
"Chado, the Way Of Tea, is based upon the simple act of boiling water, making tea, offering it to others, and drinking of it ourselves. Served with a respectful heart and received with gratitude, a bowl of tea satisfies both physical and spiritual thirst.
The frenzied world and our myriad dilemmas leave our bodies and minds exhausted. It is then that we seek out a place where we can have a moment of peace and tranquillity. In the discipline of Chado such a place can be found. The four principles of harmony, respect, purity and tranquility, codified almost four hundred years ago, are timeless guides to the practice of Chado. Incorporating them into daily life helps one to find that unassailable place of tranquility that is within each of us.
As a representative of this unbroken Japanese tradition of four hundred years, I am pleased to see that many non-Japanese are welcoming the chance to pursue its study. This growing interest in Chado among peoples of all nations leads me to strive even harder to make it possible for more people to enter the Way of Tea."
---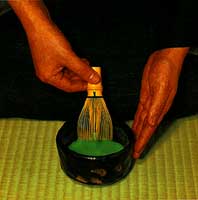 A celebrant of the tea ceremony holds a chasen (bamboo brush) used to stir and mix the tea.
Other utensils used during the ceremony include: the cha-ire, a ceramic container used for the powdered tea; the kama (kettle) used for boiling water over a charcoal fire; hashi (chopsticks) made of cedar wood used for eating the simple food; the cha-wan (tea bowls) and many others.
Koicha (thick tea) is served first and later usucha (thin tea). During the course of the ceremony, a kaiseki light meal, sake and higashi (dry sweets) are also served.