TV Stars
Mino Monta
(Tokyo, 1944- )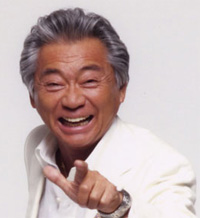 Mino Monta has that rare ability to be condescending and smarmy but at the same time charming and authoritative. Always tanned and immaculately groomed, he is so beloved and respected by middle-aged Japanese that he could sell them anything. And that is the kind of image he has - a very confident and successful salesman. He is said to be able to command ¥5 million for an hour's work. Though he clearly enjoys acting the ladies man, it has only been more recently that his career has been tainted by public scandal.
Born Minokawa Norio in Tokyo, he studied economics at Rikkyo University. After graduation, he joined the Bunka Houso broadcasting company in 1967. He became a popular DJ on the Say! Young late-night show. In 1979, he started his television career as a freelance baseball reporter with Fuji TV. He also worked as a narrator on baseball programs.
He established himself as the housewive's favorite with his daily afternoon show Omoikiri Terebi, which ran for years on Nippon TV before being slightly rebranded as "Omoikiri Ii!! Terebi". The show format featured a call-in counselling segment, usually from middle-aged housewives who were having problems with their husband or mother-in-law. This was followed by a feature on a particular health issue. This segment became such an institution that many irritated doctors say their patients swore by it. "If Mino Monta says so, it must be true!" If the show did a feature on the hangover cure benefits of eating persimmons, supermarkets stocked up, housewives bought them in bulk and salarymen headed out drinking.
Such was Mino's huge appeal to an important part of the consumer market that he has always been in huge demand as a show host. And the man himself admits he has a problem when it comes to turning down work. The result is an incredibly hectic schedule, mostly of live TV and radio shows. The Guinness Book of Records in 2007 recognized him as the busiest man on TV, with a schedule at the time of almost 22 hours of live TV a week. Rescheduling of his daily afternoon show meant he even beat his own record the following year, at precisely 22 hours and 15 seconds a week!
Mino has hosted many variety shows over the years, bringing the older demographic to youth culture shows like Gakko e Ikko (Let's Go to School). He was the host of the Japanese version of Who Wants to be a Millionaire? and has made phrases like "Final Answer" part of the popular culture. He has also done some acting work, appearing in the hit series Shitsurakuen (Paradise Lost) in 1997 and Kurenaru in 1998, and appears regular in TV commercials.
But being the busiest man in Japanese showbusiness took its toll. After being brought in to help boost the flagging ratings of NHK's annual New Year's Eve song contest in 2005, he was immediately hospitalized for back surgery. Days later, a tearful Mino gave a live TV press conference, thanking fans and doctors alike. Then it was back to work, six days a week hosting up to eleven live shows as well as pre-recorded variety shows, TV commercials, and narrations.
In 2013, Mino's career was hit by a double dose of scandal. First he was spotted sexually harassing a fellow presenter on the TBS morning variety show "Asa Zuba!", though it was an act that was not entirely out of character. This was quickly followed by the news that his son Yuto (31) had been arrested for attempted theft. The news broke during Mino's second weeklong "summer holiday" from his regular TV gigs, something that most definitely was out of character.
Scandal upon scandal for Mino Monta. (Sept. 12, 2013)
---
Links