Sports Stars
Nakata Hidetoshi
(Yamanashi Prefecture, 1977- )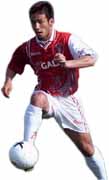 Nakata, from Kofu, Yamanashi Prefecture is the most successful and highly regarded player in Japanese soccer history. Though not always the most cheerful or talkative of people when in the face of the media glare, his dedication to his sport is never in question. He is the only player to have played in all ten of Japan's games at three World Cups. And he was perhaps the team's most vocal but most accurate critic right up until he announced his retirement from the game shortly after Japan was eliminated all too easily from the World Cup in 2006 in Germany.
Nakata was a member of the young Japan team that beat Brazil 1-0 in the 1996 Olympics, a result viewed as something of a miracle at home, and he made his debut for the senior national team in May 1997 in a friendly game against perennial Asian rivals South Korea. He played for several years for Hiratsuka Bellmare in the J-League until the 1998 World Cup finals, where he attracted the attention of many European teams. He joined Perugia in the Serie A, the top Italian league, for the record fee for a Japanese player of $3.5 million.
The famously camera-shy Nakata said at the time, "When I was in Japan, I just thought about playing and nothing else. I didn't want to be an idol. I'm going to give everything for Perugia because I don't want to disappoint anyone. I feel bad because I couldn't say good-bye properly to my fans, but I'll make up for it by doing my best in Italy."
Nakata scored two goals on his debut against reigning champions Juventus and became an overnight success. But Perugia lost the game and went on to struggle during the season, barely managing to avoid relegation. But Nakata managed a tally of ten goals for the season (not bad for a midfielder and nine more than forward Miura 'Kazu' Kazuyoshi, the first Japanese to play in Italy) and matured into a player that his team and his country can be proud of. His obvious talents attracted the attention of clubs all over Europe but Nakata opted to stay in Italy, moving to title contender AC Roma at the beginning of 2000 and helping them win the championship. But despite this taste of success, he was off to Parma the following season, then later to Bologna and Fiorentina. In 2005 he switched to the English Premier League, playing a season on loan to Bolton Wanderers.
It was only later in his career that his notoriously gruff manner and short press conferences became more relaxed and assured. He was clearly the playmaker on the Japanese national team and he never seemed to tire of pushing his countrymen to raise their game. It may have been the never-ending frustration that this entailed that led to his decision to retire in July 2006, at the age of 29 and still in his prime. He made 77 appearances for Japan and scored 11 goals.
---
Links
Nakata Net is the official homepage for Nakata Hidetoshi (Japanese).