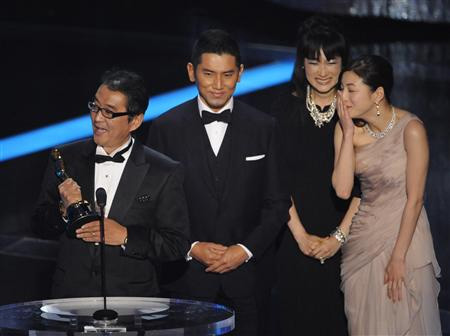 The Japanese show business industry has been basking in the glory of the country's two wins at the Academy Awards, which we announced here yesterday. Japanese productions won two Oscars, both for the first time in their category. The first to be announced was the animated short "Tsumiki no Ie." But the bigger prize was taken by "Okuribito" (Departures), chosen as best foreign language film. Director Takita Yojiro (53) has come a long way since his 1981 debut as a director of soft porn. "Chikan Onna Sensei" (Pervert Lady Teacher) was the first in a series of more than a dozen he made. In recent years, he's had more mainstream success with films like "Onmyoji" (2001) and "Battery" (2007), but has reached a peak with his 43rd movie. He was emotional after the awards ceremony and tearfully thanked the cast and dozens of crew members who paid their own way to accompany him to Los Angeles. As often happens in Japan, it was only when Okuribito started gaining a reputation at film festivals overseas late last year that it got any media attention at home. Stars Motoki Masahiro (43) and Hirosue Ryoko (32) are already well established names, so the Oscar is mainly Takita's chance to enjoy the full limelight.
• Actor Nishimura Kazuhiko (42) is a father again. He announced on his blog yesterday that his wife, shodo (calligraphy) artist Kunishige Tomomi (30) gave birth to their second child last weekend. They married in 2006 and had a son the following year. Nishimura was previously married to actress Tachihara Mai (39). Meanwhile, actor Tanihara Shousuke (36) is to be father for the third time, according to today's issue of weekly magazine "Shuukan Josei." He and his wife Emi (32) have two children, their elder son being from her previous marriage to actor Ishida Issei (34). She was already pregnant when she and Tanihara married in March 2007. They had a daughter the following October.
• With an 11-year career behind her, J-pop star aiko (33) finally has her first No.1 single. She's had 5 chart-topping albums but the best she's ever managed until now on the Oricon singles rankings was No.2. That has now changed with the success of "Milk/Nageki no Kiss," which entered the latest chart at No.1. On top of the album chart are rock band Unicorn, who recently reformed 15 years after they split. "Shamble" is their 7th original album. They split up in 1993 and members pursued solo careers until they decided to revive the band in the spring of last year. The band is fronted by Okuda Tamio, who has had by far the most successful solo career over the last decade.