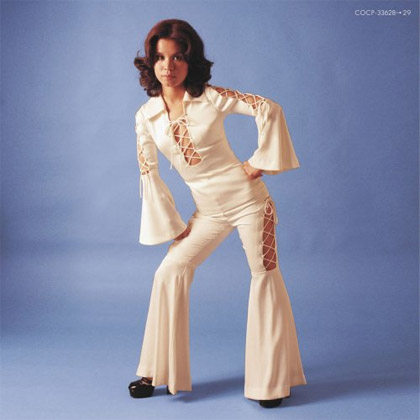 Singer Shibata Hatsumi died of a heart attack at her home in the Shizuoka Prefecture city of Itoh last Saturday morning. She was 57. According to her husband and the president of her management agency, Shibata was found to have breast cancer in January and underwent a mastectomy. She was released from hospital in February and began anticancer drug treatment this month. Last Friday night, she awoke during the night feeling cold and decided to take a bath. Her father, visiting her home the next morning, found her collapsed in her bathroom.
Shibata began singing at a U.S. military base when she was just 9, and joined the band Smiley Ohara and the Skyliners at the age of 11. She made her pro debut in 1974 and had a major hit with "My Luxury Night" in 1977, which earned her an appearance on NHK's "Kohaku Uta Gassen" concert. She is perhaps best remembered for the song "Oh! Mouretsu," which was used in a series of hugely popular TV commercials by Maruzen Petrochemical Co., now known as Cosmo Oil Co. She semi-retired about ten years ago due to problems with depression caused by the onset of menopause. But two years ago her health improved and she said she looked forward to making a return to the stage.
The Start of Something Big?
Actor Miura Takahiro (24) is finally putting one of the finest pedigrees in Japanese showbiz into action. The son of actor Miura Tomokazu (58) and legendary pop idol Yamaguchi Momoe (51), he made his first public appearance yesterday as he was announced as the latest addition to famous the Lipovitan ad campaign. The energy drink's famous "Fight! Ippatsu!" TV commercials have run for almost 50 years and have featured many strapping young male duos. Miura teams up with Kane Kosugi (35), who's been doing the gig since 1999, in the 11th partnership. Kosugi knows a thing or two about living up to famous parents – his father is the legendary Hollywood ninja Sho Kosugi. Miura already has roles in three major movies coming out this year and will make his big screen debut in "Railways," due for release at the end of May.