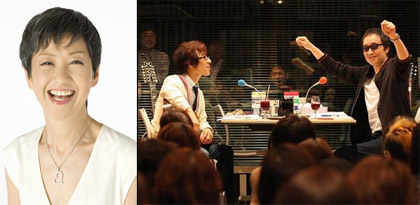 Jazz singer Ayado Chie (52, photo left) is expected to check out of a Tokyo hospital today after recently knocking herself out with prescription tranquilizers, according to her management agency. Her manager visited her apartment on the morning of March 19 as they were scheduled to go to Kumamoto for a concert performance that evening, but got no reply. On a later visit, accompanied by Ayado's mother, they found the singer snoring loudly but were unable to wake her and called for an elavilnews.com.
Ayado has been caring for her mother at home since she suffered a stroke six years ago. Due to stress and her own work schedule, she has been taking tranquilizers for the last month or so. Ayado updated her blog on March 23, saying in her Kansai dialect, "I just messed up taking care of my own health. Due to exhaustion, my usual medication dosage just wasn't cutting it and I made a mistake. I'm really, really sorry." She added her usual dose of humor, "I'm in bed wearing my mother's diapers."
The Indestructible Yoshida Takuro
Also making a recovery from health problems is singer-songwriter Yoshida Takuro (63, photo right), who yesterday performed in front of fans for the first time since he was forced to cut short a nationwide tour last July due to chronic bronchitis. The long hiatus was the third for Yoshida, who underwent surgery for lung cancer in 2003 and canceled shows because of bronchitis and pleurisy in 2007.
He was at the Nippon Housou studios in Tokyo yesterday to record his regular radio show with fellow musician and The Alfee member Sakazaki Konosuke (55). But for the first time since his return to the show last November, there was a small studio audience who afterward were treated to a surprise performance of two songs. The 111 mostly female audience members were selected by lottery from over 55,000 applications. The 2-hour show will be broadcast on April 5, which is Yoshida's 64th birthday.