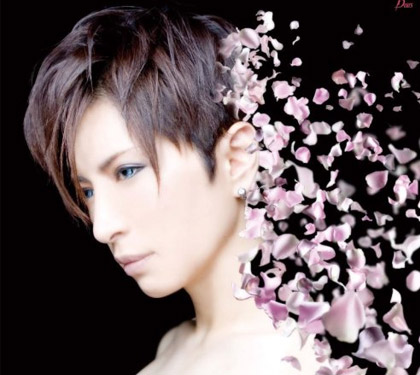 Well, here's an interesting way to hype a rock concert. Gackt (36) announced yesterday that his show at Club Citta in Kawasaki on Sunday will be a guys-only affair. That means no female crew or staff and no female members of the audience. Organizers have reportedly set up an examination room to deal with any suspicious ticket holders. Gackt says the move is his attempt to reverse the recent trend among Japanese guys to shun traditional male stereotypes and get in touch with their feminine side. The trend is encapsulated in the phrase "soushokukei danshi, nikushokukei joshi" which translates as "grass-eating guys, meat-eating girls," and with his origins being in the visual-kei rock scene, Gackt himself has been a style leader for that scene.
Saotome Embarks on New Road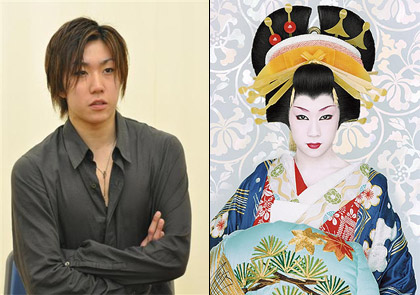 In his own way, popular young actor Saotome Taichi (18, photo left) is another example of gender bending in Japan. Not only does he perform dressed as a kimono-clad female (photo right), but he is so totally convincing that his onnagata dance has won him legions of female fans. Now it seems that he is leaving behind the woman who helped make him a star. Saito Chieko (84), chairwoman of the Asakusa Rock-za theater, said yesterday that Otome has refused to renew his contract with her management agency, which expires at the end of this month, and has already found new representation. A spokesperson for the Meiji-za theater in Tokyo said they knew nothing of the matter and that Saotome would perform there as scheduled from April 1.
AKB48 Fan Meet is Canceled
An event where fans would have a chance to meet members of the popular idol group AKB48 was canceled after ticket fraud was discovered. Fans were to meet the five members of spinoff group "Watarirouka Hashiritai" at an "akushukai" (shake hands meeting) in Nagoya on Wednesday. The event, to promote their new single, was called off due to what organizers described as the "theft of used tickets and the use of forged tickets."