WBC world flyweight boxing champion Kameda Koki (23, photo right) is to make his acting debut with a cameo role in the upcoming movie "Box!" Directed by Li Toshio (45), it stars top young actor Ichihara Hayato (23, photo left) as Gihei, a lazy but extremely gifted boxer. Ichihara and Kameda have been friends since the actor was a guest ringside announcer for Kameda's fight against Rexon Flores in March 2008. The boxer known as "Naniwa no Token" (The Fist of Naniwa) joined the movie project at the invitation of his friend, but the two don't share any screen time. In the movie, Kameda appears to give ringside support to Gihei's rival Inamura, played by super lightweight pro Suwa Masashi (29). Talking about last month's filming Kameda said, "It was fun to experience something new, but acting is tough. I was embarrassed and nervous. Boxing is much easier!" He is the first current world boxing champion to appear in a movie in Japan. The movie is scheduled for release on May 22.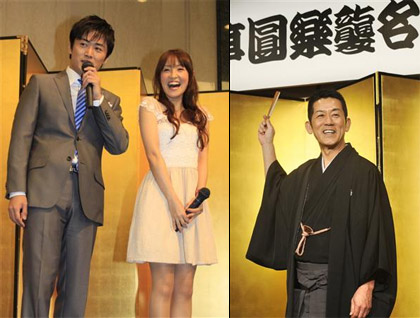 Comedian Gekidan Hitori (33, photo left) and talento Ohsawa Akane (24, photo left) announced yesterday that they are expecting their first child. The couple married in February 2009 and are both enjoying very successful and busy careers. Ohsawa is currently three months pregnant and says she has been suffering badly with morning sickness. But her management agency say she plans to continue working until as close as possible to the due date. Her husband, whose stage name translates as "one-man theater group," said in a fax to the media, "A year has passed since we became the Gekidan Duo, and now it looks like we will be joined by the child actor we had hoped for. I look forward to the day when we can perform as the Gekidan Trio."
Rakugo Welcomes New Enraku
A party was held at the Imperial Hotel in central Tokyo yesterday to celebrate the succession of rakugo-ka Sanyuutei Rakutaro (60, photo) to the stage name Enraku VI. All the big names from the world of traditional buy viagra online were there, including Tachikawa Danshi (74), who has been undergoing treatment for diabetes since last summer. Also there, despite his recent battles with prosecutors over alleged financial irregularities, was political kingpin Ozawa Ichiro (67). The previous Sanyuutei Enraku died of lung cancer last October.