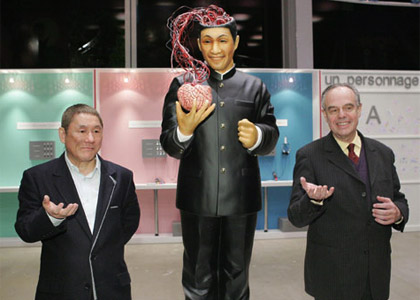 The multi-talented Kitano Takeshi (63, profile) was given the highest honor by the French government on Tuesday for his film and artistic works. French Culture Minister Frederic Mitterrand (photo right) presented the Commander of the Order of the Arts and Letters award at the Fondation Cartier museum in Paris, which is showing Kitano's artworks to the public from Thursday through Sept. 12. His films will also be screened at the Centre Pompidou museum in Paris for the next three months. Mitterrand lauded the Japanese filmmaker's extraordinary creativity and saying his work is full of spontaneity and teaches us about the multi-faceted nature of people.
"I have long had a fondness for Paris, which is at the heart of culture. This is like an illusion, a dream," Kitano said. "I'm not so sure I deserve this honor, but I will do my best to be worthy of it."
Kitano, still best known at home by his comedian stage name Beat Takeshi, made a dramatic entrance into the world of film directing in 1989 with "Violent Cop." He went on to make a series of films in which explosive violence is balanced against human drama and artistic sensibilities, including 1997's "Hana-bi," which won the Golden Lion for best movie at the Venice Film Festival. His work has regularly been hailed in Europe, event the recent avant garde movies that left most Japanese audiences scratching their heads.