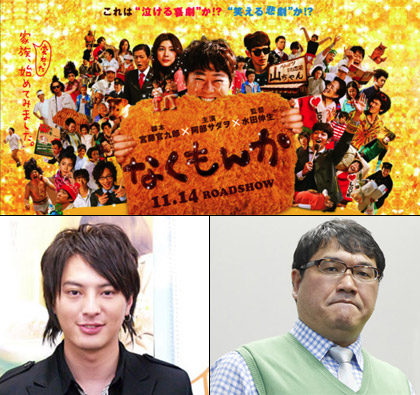 Major talent management agency Sun Music won a minor legal dispute at the Tokyo District Court yesterday. The agency sued Osaka-based movie production company Be Wild Co. Ltd. for ¥6.4 million in performance and management fees owed to Sun Music, actor Tsukamoto Takashi (27, photo left) and talento Cunning Takayama (38, photo right). The two filmed supporting roles in the movie "Nakumonka" in February of last year, for which Tsukamoto was due to be paid ¥5.46 million and Takayama ¥315,000. The movie played in theaters nationwide last November. Set in downtown Tokyo, the story about two brothers separated at an early age, was based on a screenplay by multiple award winner Kudo Kankuro (39).
At yesterday's first oral proceedings, lawyers for Be Wild acknowledged the plaintiff's debt claim and formally signed documents to that effect, bringing the case to a close.
Celebs Need Driving Crash Course?
Tegoshi Yuya (22), a member of popular Johnny's Jimusho idol group NEWS, recently caused a minor traffic accident, Tokyo police revealed yesterday. Tegoshi was driving his car out of a parking lot when he hit the rear of a taxi. Neither driver was injured. Tegoshi is currently a distance learning student of human science at Waseda University.
And actress Hirosue Ryoko (29) was on her way to her son's kindergarten when she collided with another car yesterday morning, according to Tokyo police. There were no injuries.