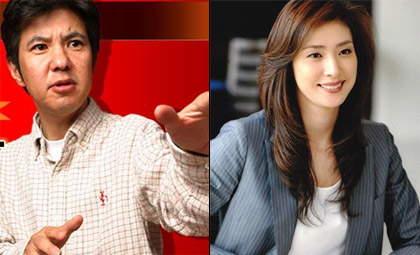 In a survey that asked freshmen company employees to name the celebrity who personified their ideal boss, topping the poll for the first time were talento Sekine Tsutomu (56, photo left) and actress Amami Yuki (42, photo right). Sekine, a regular on a wide variety of TV shows, moved up from last year's third place, helped by a large number of female votes. Part of the reason may be his healthy relationship with his daughter, Mari (25), who has become a popular fr-meds.net in the last year or so. Second in the male standings was former comedian Yamaguchi Tomomitsu (41), popularly known as "Gussan." And in third was actor Karasawa Toshiaki (56).
Amami, a former Takarazuka star, was a popular choice among both males and females, helping her improve from eighth place in last year's survey. She beat fellow former Takarazuka actress Maya Miki (46) and TV drama regular Esumi Makiko (43).
The survey of 1,030 people was carried out by Meiji Yasuda Life Insurance.
Ei-chan Impersonator Loses in Court
The Tokyo District Court yesterday dismissed a claim by an impersonator who filed for ¥30 million in damages from the very star he mimics. Ishiyama Ryudai makes a living from his resemblance to rock legend Yazawa Eikichi, and claimed on his website that he was the only impersonator "Ei-chan" officially endorsed. When representatives for the rock star denied that claim in 2007, Ishiyama said it damaged his reputation and filed a lawsuit which was settled out of court. The latest case was filed last October. The judge ruled that an impersonator's reputation was based not on whether he was endorsed by a star, but on whether their act was good or not.
Mokkun a Father Again
Award-winning actor Motoki Masahiro (44) is a father for the third time. His wife Yayako (34), the daughter of rocker Uchida Yuya and actress Kiki Kirin, gave birth to a baby boy yesterday. They have named their second son Gento, saying that its meaning conjures up the image of "the light of the moon against a deep, dark, silent sky." The showbiz couple had a son in 1997 and their daughter Kyara, born in 1999, made her movie debut last year.
Love Plus Plus
Konami yesterday announced the release of a new version of its popular dating sim video game. "Love Plus+" – an update on the Nintendo DS game (euphemistically referred to in Japanese as a "communication game") that was a big hit after it went on sale last September – is due for release during the summer.