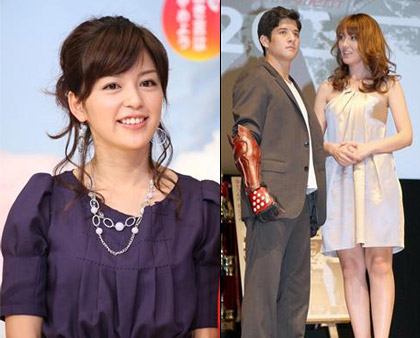 Fuji TV announcer Nakano Minako (30, photo left) had a tearful wedding ceremony and reception yesterday at the Shangri-La hotel in central Tokyo. She and her groom, a 34-year-old doctor she met in the autumn of 2008, held a relatively simple and "at home" reception attended by about 180 people. In addition to her own father's speech, Nakano was reduced to tears by the words of other father figures. The couple were toasted by Ogura Tomoaki (62), Nakano's current co-anchor on the "Tokudane" morning wide show, and Otsuka Norikazu (61), with whom she worked for more than six years on the "Mezamashi Terebi" show. There was a surprise performance by singer-songwriter Angela Aki (32), who serenaded the couple with her ballads "Sakurairo" and "This Love."
Tekken Star No Match for Mona
Irish-Chinese actor John Foo (27, photo right) was unable to resist the charms, and fighting skills, of local beauty Yamamoto Mona (34, photo right) yesterday. In Tokyo to promote the Hollywood adaptation of the popular video game "Tekken," he took on Mona in a best-of-three game of "Tekken 6" and promptly had his butt kicked. Needless to say he does a lot better on the big screen and the results can be seen when the Dwight Little-directed martial arts movie opens here on March 20.
Mona meanwhile refused to be drawn on questions about her romance with a real estate company owner. But she said that, compared with the image she gained after a couple of affairs with married men, these days she is "a boring woman."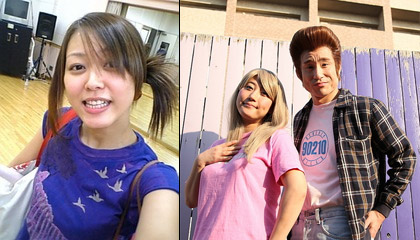 Former Wrestling Idol to be a Mother
Happy news for actress and former idol wrestler Noumi Kayo (33, photo left), who revealed yesterday that she is five months pregnant. She and Horiuchi Kazuyoshi (35) of the dance group Panicrew married in April 2007. The couple were overjoyed when they learned of the pregnancy last December, especially as Noumi's history of injuries from her 1995-2004 wrestling career caused concern that she might not be able to bear children. After retiring from the sport she trained as a theater actress under the guidance of top playwright Tsuka Kouhei (61).
Tomochika, Nadagi Split
Less happy news for comedy couple Tomochika (36) and Nadagi Takeshi (39, photo right), whose six-year romance has ended. Thought to be on the verge of marriage, the two were reported on Saturday as having recently broken up, and Tomochika confirmed the rumors on a radio show yesterday. Appearing on a show hosted by comedy duo Bakusho Mondai, she shared their surprise that the story made the front page of the Sankei Sports newspaper. She said that she and Nadagi had simply grown apart largely due to the success of their mutual careers.
As a solo act, Tomochika brings a variety of characters to comedic life and is a regular on many TV shows. Nadagi is a member of the manzai group Plan 9 but has had a lot of success as a solo act, winning the annual R-1 contest in 2007 and 2008. He sometimes paired with Tomochika and they had a hit with their parody of a couple from the US TV show "Beverly Hills 90210."