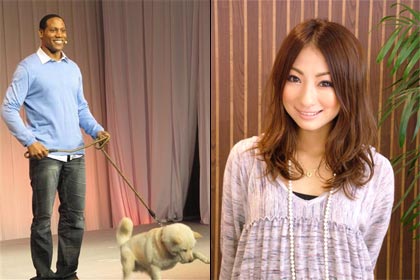 American talento Dante Carver (33), best known for his ongoing role in the Softbank TV commercials, is getting a different kind of publicity since his romance with fashion model Matsumoto Akiko (23) was revealed at the weekend. Kobe native Matsumoto graduated from university last year and moved to Tokyo. A former reader-turned-model for the fashion magazines "ViVi" and "CanCam," she now runs her own online fashion store, HerraDura. The pair have been spotted vacationing in Korea and Hawaii together and post photos on each other's blogs. Once source has said that they are planning to get married in Hawaii this summer. Appearing at a PR event in Tokyo yesterday to celebrate Softbank's 30th anniversary, Dante was in high spirits but didn't comment on the relationship or his marriage plans.
Okinawa Film Fest Winds Down
The 2nd Okinawa International Film Festival came to a close yesterday. The festival's theme is "laugh and peace" and there was a grand prix for each. The winner in the "laugh" category was Watanabe Taku's "Kurosawa Eiga," which starred Kurosawa Kazuko (31) of the comedy trio Mori Sanchuu. The Bollywood "Rab de Bana de Jodi" (A Match Made in Heaven), written and directed by Aditya Chopra, took the top award in the "peace" category.
Comedian Hazama Kamperi (60), who is currently on his mammoth Earth Marathon, appeared from Iran via satellite hookup. The festival included the first showing of the movie "Run and Run," which local film makers in Iran put together in a matter of weeks when they learned of Hazama's feat.
Held in the city of Ginowan, the festival was largely put together by Yoshimoto Kogyo, the agency that manages most of Japan's comedy talent.