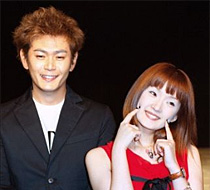 Another showbiz divorce was announced this weekend, with comedian Endo Shouzou (36) and talento Chiaki (36) ending their less than six-year marriage. The main reason is thought to be Chiaki's running out of patience with her husband's philandering. One half of the popular duo Cocorico, Endo took part in a trip to Hawaii in January of last year with a group of fellow comedians and young beauties. And in March this year, he was photographed at a party with a group of race queens. The couple, both die-hard fans of the Hanshin Tigers baseball team, married in July 2002 and had a baby daughter in May 2003. All three were photographed together at a Tigers game at Koshien and were often referred to as an ideal showbiz family.
• Once upon a time, it was as if the whole nation would tune in to NHK's "Kohaku Uta Gassen" every New Year's Eve. Ratings have dropped dramatically over the last few years but the show has had the right kind of publicity to draw an audience this year. The biggest suspense is whether SMAP leader Nakai Masahiro (35) and current J-Pop queen Koda Kumi (25) will finally make their romance official. Then there is U.S. import Leah Dizon (21) who was in tears at rehearsals when she couldn't remember the lyrics to the closing song, where all participants are led by enka veteran Kitajima Saburo. She originally had the highly visible spot right behind "Sabu-chan" but has since been moved to the back row. Then there is the sad story of Dreams Come True vocalist Yoshida Miwa (42), whose common-law husband passed away a few months ago. She and veteran Wada Akiko (57) were both in tears as they embraced during rehearsals. All in all, it's sure to be an emotional show.
• At the Record Taisho awards, the main award went to folk duo Kobukuro. The newcomer award went to 7-member idol group C-ute, part of the same Hello! Project that brought you Morning Musume. As the members are under 18, they were not allowed to appear on stage after 9pm and had to accept their award via video hookup to the dressing room. Exile took the award for best vocal group.