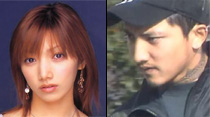 Management for idol singer Goto Maki (22) have denied that she is taking a sabbatical during her brother's ongoing trial. The former Morning Musume member was reported to be refusing leave her home or take on work until a verdict is reached in the trial of Goto Yuuki (21) on robbery and assault charges. With the next hearing scheduled for late January, the trial is likely to continue for several months. "Gomaki", as she is known to fans, quit the Hello! Project ensemble at the end of October when the case came to light and has insisted that the decision was because she wants to pursue her own musical goals. Two of Yuuki's accomplices, both junior high school friends, were arrested yesterday for the September robbery. Yuuki, who himself had a brief pop career and is married with a child, has said he got into crime because of financial problems.
• Internationally renowned jazz pianist Ozone Makoto (46) is to provide the background music for a Fuji TV drama series. "Ashita no Kita Yoshio", which airs from January 8, will be Ozone's first attempt at TV music, and it is very rare for such a project to be undertaken by a jazz musician. He will also make a cameo appearance in the series, which stars Kohinata Fumiyo (53), Matsuda Ryuhei (24) and Konishi Manami (29). Ozone was the first Japanese artist to sign with the Columbia Records label, and he has since been nominated for two Grammy Awards.
• At the Tokyo District Court yesterday, singer Kye Eun Sook (46) was given an 18-month sentence, suspended for three years, for drug possession. The Japan-based Korean singer was arrested by Tokyo police at the end of November for possession of amphetamines.
• TV Asahi announcer Dou Mariko (26) is getting married. She and her company employee fiance, said to be in his 30s, plan to tie the knot next April. Dou says she will continue her career. After joining the network in 2004, she immediately became a hit and landed the post of assistant to host Tamori on the popular "Music Station" show.
• Australian pop queen Kylie Minogue (40) is in Japan for the first time in ten years. She attended a PR event for her album "X" and the documentary DVD "White Diamond". She promised local fans that she will come back to perform in Japan as soon as she can.
• Just two days after turning 20, singer/songwriter Ayaka performed her first solo concert at the Nippon Budokan in central Tokyo. She started off the show with an acappella version of her hit "I Believe" and also gave the 12,000 fans a preview of her next single "Te wo Tsunagou", due for release next spring.