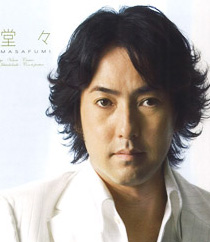 The song "Sen no Kaze ni Natte", which made opera tenor Akikawa Masafumi (39) a household name, was named yesterday as the best-selling single of the year. It was the first classical recording to reach No.1 on Oricon's singles chart and Akikawa became Japan's first classical artist to have a million-selling release. With over 1.1 million copies sold, it brought in ¥1.12 billion for Teichiku Entertainment. The song is based on an English poem by an unknown author called "Do not Stand at my Grave and Weep" and Akikawa's version was released in May 2006. After he sang it on NHK's "Kohaku Utagassen" last New Year's Eve, sales started to really pick up and Akikawa started popping up all over the place on TV. He has performed more than 120 concerts this year and estimates that he has sung the song about 160 times.
Meanwhile, the best-selling artist of the year was Koda Kumi (25), who had combined sales of ¥7.35 billion. Her album "Black Cherry" alone brought in ¥4.3 billion, though in terms of copies sold the year's best-selling album was Mr. Children's "Home" at 1.18 million.
• Talento Oh Rie (37) and psychiatrist Honda Masaki (37) have postponed their wedding plans, it was revealed yesterday. Oh is to give an official explanation at a press conference on December 25. Sources say that the couple had originally planned to marry at the end of next year's baseball season, when Oh's father and Softbank Hawks manager Oh Sadaharu (67) plans to retire. The schedule was moved forward after the media got hold of the story, with the marriage registry planned for New Year's Day and a wedding and reception later in January.
• Actress/singer Sawajiri Erika (21) is in trouble again. The moody star, who drew media fire for her grumpy behavior at a movie behavior in November, caused a minor traffic accident on Monday night. She was turning right at a signal in the Aobadai area of Tokyo when she collided with a motorcycle. Nobody was injured but the young male motorcyclist reported the accident to police. Sawajiri recently returned from London, where she and her rumored boyfriend, media creator Takashiro Tsuyoshi (43), attended the Led Zeppelin concert.
• The contenders for the major Japan Academy Awards were announced yesterday: "Tokyo Tower, Okan to Boku to, Tokidoki, Oton" has 13 nominations; "Always, Zoku: Sanchome no Yuhi" (12); and "Soredemo Boku wa Yattenai" (11). The awards ceremony will be held at the Grand Prince Hotel Takanawa in Tokyo on February 15.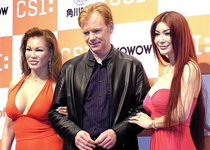 "CSI: Miami" star David Caruso (51) was in Tokyo yesterday to promote the upcoming release on DVD of season 3 of the popular crime show. At the PR event he was flanked by the always publicity-hungry Gorgeous Kano Sisters.