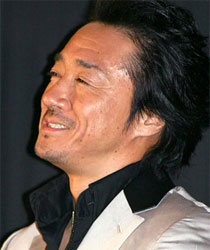 Rock singer Otomo Kouhei (51) gave evidence at the Tokyo District Court yesterday on the first day of the complicated case against his former management agency. The dispute between the "Mother Enterprise" agency and the Hound Dog vocalist began in 2005, the band's 25th anniversary. Otomo was accused of doing deals and "going solo" behind the backs of management and the other band members, while he claimed he was unhappy with their small-scale approach to business. The band had been one of Japan's most popular in the late 1980s but went into decline in the early 90s. Otomo set up his own agency Iehok, in April 2005. Mother announced that the "Omega" album, released that June, would be the band's last original recording and that they would split after a Nippon Budokan concert in July. On stage, Otomo insisted the band would continue and he managed to persuade three other members to join him at Iehok. But the following months saw further disputes break out between the members and a series of legal suits and counter-suits.
• Talento Hayasaka Yoshie (32) gave birth to her first child yesterday. She and Super Delphin (40), a former wrestler and now the president of an Osaka wrestling troupe, married in December 2003.
• Actor Kurobe Susumu (68) and actress Hishimi Yuriko (60) attended an event in Tokyo yesterday to celebrate the 41-year history of "Ultraman". Kurobe played the lead role of Hayata Shin in the original 1966 series, while Hishimi played the heroine Yuri Ann in "Ultraman Seven" the following year. Real name Yoshimoto Takashi, Kurobe is the father of actress Yoshimoto Takami (36), who played the heroine Yanase Lena in the 1996 series "Ultraman Tiga", though he was originally totally opposed to her entering show business.
• Comedian Himura Yuuki (35) of the duo Bananaman is to undergo throat surgery in the New Year. Last month, he lost his voice on the first day of a stage show starring top comedian Uchimura Teruyoshi.