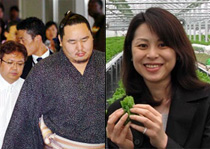 Talento Oh Rie (37, photo right) is getting married again. The daughter of baseball legend and current Softbank Hawks manager Oh Sadaharu (67) is engaged to marry Honda Masaki (37, photo left), the doctor who recently treated sumo yokozuna Asashoryu (27, photo center). The couple are planning to register their marriage on New Year's Day and hold a ceremony in Tokyo sometime in January. They first met on Oh's 37th birthday in March when they happened to be seated next to each other at a restaurant. Oh, a graduate of Aoyama University, worked for the Hakuhodo ad agency before moving to TV in 1996. Qualified as a "vegetable sommelier", she is marrying for the third time. Honda, also a divorcee, is a psychiatrist and plastic surgeon, with a clinic in the tony neighborhood of Roppongi in central Tokyo. He got a lot of media attention during the summer's sumo scandal when he treated grand champion Asashoryu for his depression.
• Yukinari (29), a member of J-Pop trio Da Pump, and former talento Tamaki Miho (24) are heading for divorce. They are already separated and are expected to go to the Tokyo Family Court for mediation next week. They have a young daughter. In 2000, Tamaki won an audition to join the major Hori Pro agency and become an idol singer using the stage name Nishida Natsu. In 2002, she tried her hand for a few months in the pro wrestling scene before returning briefly to singing and retiring from show business in 2003. By that time, she was dating Yukinari and was several months pregnant when the couple married in February 2004.
• Talento Moriguchi Hiroko (39) gave a mini concert in Tokyo yesterday to promote her new CD, "Mo Hitotsu no Mirai – Starry Spirits". It includes the main theme and ending song for the latest "SD Gundam G Generation Spirits" game for the Sony PlayStation 2. Moriguchi made her smash hit debut as an idol singer in 1985 with the ending theme for the "Gundam Z" anime, but never made much of an impression after that as a singer. Instead she established herself as a general chatterbox talento on the variety show circuit. Indeed, it was her success that led to the coining of the term "baradol", a combination of "baraeti" (variety) and "idol". Yesterday she denied that a nude shower movie that has been circulating on the Net is really her, joking that she looks a lot worse in the flesh.