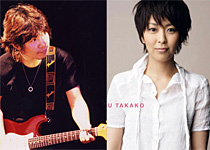 The year-end wedding rush continues, with the latest announcement coming from actress Matsu Takako (30). She and musician Sahashi Yoshiyuki (46) chose yesterday, an auspicious "taian" day on the traditional calendar, to tie the knot on a relationship of six years. Messages of congratulation came from Matsu's father, actor Matsumoto Koshiro (65), and brother, kabuki actor Ichikawa Somegoro (36) as well as a host of other celebrities. The couple first started going out when Sahashi took part in Matsu's nationwide concert tour in 2001. He also participated in the recording of her latest album, "Cherish You", which was released in April. Matsu told the president of her management agency of their wedding plans at the end of September. Yesterday's announcement was sent to the media by fax and the couple have no plans to hold a press conference, wedding ceremony or reception. It is the second marriage for Sahashi, who divorced in 1998.
• Less happy news for retired baseball star Shinjo Tsuyoshi (35). He announced on his official website yesterday that he and his wife, talento Ohkouchi Shiho (36), divorced on December 16.
• Nakamura Kouichi (56), vocalist of the rock band Jaywalk is to be prosecuted for having an army knife in his car. The knife was spotted by police on the back seat of his car when he was stopped for a routine check in June. He said he had used it on a camping trip about a year earlier and had left it in the car.