Sports Stars
Shinjo Tsuyoshi
(Tokyo, 1972- )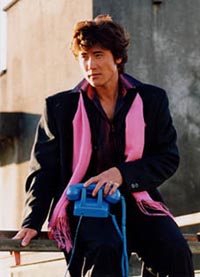 Baseball is huge in Japan and the poster boy for Japanese baseball for many years was Shinjo Tsuyoshi. Consistently one of the most popular players on the fan's ballot for the All-Star game, Shinjo was equal parts style and substance. Well, make that 60-40. His red Ferrari, Armani suits and dyed-blonde hair were certainly not to help with his swing. 'The Prince' or 'The Spaceman' as he is known in Japan learned some time ago that what he lacks in statistics he can make up for with a cocky smile and a flourish on the field. A career .248 batter, Shinjo had to work hard during 2001 Spring training to secure a place in the New York Mets talented outfield, but though he went through ups and downs, he managed to keep it. Mets manager Bobby Valentine spent some happy, if frustrating, years with the Chiba Lotte Marines in Japan and had high hopes for Shinjo (Valentine later returned to manage the Marines again and won the Japan Series with them in 2005). So it came as quite a shock, not least to the player himself, when he was traded to the San Fransisco Giants the following season. Ever the optimist, Shinjo said he looked forward to moving to the west coast. A year later he was back with the Mets. A less than stellar season saw him return to Japan to end out his career. But he did so on a true high note.
Shinjo (born Jan 28, 1972 in Tokyo) joined the Hanshin Tigers in 1990 and in many ways his career encapsulated the team's very essence in the years he played with them. In their decades-long rivalry with 'Japan's team', the Tokyo-based Yomiuri Giants, the Tigers and their fans lived in constant hope of beating the 'money' team and making it to the top. Only once since they won the Japan Series in 1985 had they even managed a winning record. But the fans remained just about the most fanatical in Japan as well as the most hopelessly optimistic. Shinjo's 'freestyle' batting and league-leading strikeout records reflect that kind of optimism. That having been said, Shinjo is very quick on his feet and plays solid, error-free defense.
Shinjo gave up a very lucrative career in Japan to move to the US in 2001. He turned down a $14 million multi-year contract to play for the minimum MLB salary of $200,000. As he said: "I'm not going for the money. I want to play baseball at this level. You never know what's going to happen. I'm trying to grasp that dream I've always had." In typical positive style, he added: "I would have had something in my mind that I would have regretted forever if I didn't come here. Rather than have that regret, I decided to go." Certainly in comparison with the occasionaly dour Nomo, Irabu and even Ichiro, Shinjo's 'no-tenki' (carefree) approach to life makes for more cheery news reports.
(The Tigers enjoyed something of a resurgence after Shinjo's departure, winning the Central league pennant in 2003 and again in 2005.)
After a couple of moderately successful stints with the New York Mets and San Fransisco Giants, Shinjo returned to Japan in 2004 to play with the Hokkaido Nippon Ham Fighters. The Pacific League team were moving from their home at Tokyo Dome to the Sapporo Dome, built for the World Cup in 2002. Shinjo was as productive as always but perhaps more importantly brought his large fan base with him. A regular in TV commercials and magazines, and with his image boosted by his time in the U.S., his mass appeal was crucial to the development of local support in Sapporo. And no one knows how to use this appeal better than Shinjo.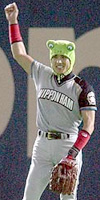 In spring 2006 he announced that he would be retiring at the end of the season. Remarkably, the Fighters went from finishing fifth in their league in 2005 to clinching the pennant and making the Japan Series for the first time in 44 years. And just to add the storybook ending to the tale, they won the series in five games, with the clincher in front of their home fans. Shinjo had tears running down his face during his final at-bat. He struck out swinging, but the telegenic and flamboyant former Major Leaguer - whose agency also represents Hollywood star Watanabe Ken - has already been swamped with offers from the showbiz world. His next career move could be anything from sports commentator to movie star.
---
Links