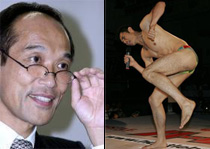 Yesterday saw the annual awards ceremony for the new and popular words and expressions that have defined the last year. Sponsored by U-Can (Japan Correspondence Education Association), the awards get a lot of media attention but can also signal overexposure for an up-and-coming comedian. Kojima Yoshio (27, photo right) will be hoping his shelf life extends beyond that of his "Sonna no Kankei-nee!" and "Oppapii" catchphrases. A total unknown until last May, he's now a household name, but such sudden success is often short-lived. He and makeup artist Ikko (45), who popularized the word "Dondake!" (No way!) beyond the gay community, were the brightest spots in a lineup of nominees that generally reflected the problems Japan went through this year. They included "kieta nenkin" (disappearing pension funds), "shokuhin gisou" (falsely-labeled food products), "netto cafe nanmin" (Internet cafe refugees), and "moushobi" (extremely hot day). But the awards are primarily meant to give the Japanese people a bit of a lift at the end of the year, so the top award was given to two upbeat stories. "Hanakami Oji" (The Shy Prince) was the nickname given to young golf sensation Ishikawa Ryo, who at the age of 15 became the youngest ever player to win a pro event (see our story. And "(Miyazaki wo) dogenkasen to ikan" was chosen to represent the vitality that former comedian Higashikokubaru Hideo (50, photo left) has shown in his job as governor of Miyazaki Prefecture. Over the last year, he has overcome several crises and used his fame with great effect as a hugely successful salesman for the region. Among his constituents, he has retained a popularity level of over 85%, almost unheard of in political circles.
• At the age of 60 years and 3 months, pop legend Oda Kazumasa is the oldest artist ever to top the Oricon album chart with his hits collection "Jiko Besuto – 2". He's also the first artist to have a No.1 hit in his 30's (with the band Of Course), 40's, 50's and 60's. Meanwhile rock legend Nagabuchi Tsuyoshi (51), who has written a string of No.1 hits over the years, now for the first time has a chart topper performed by someone else. He penned the music and lyrics for Tokio's latest single "SEI SYuN", which is atop the Oricon chart released yesterday.
• Hollywood star Will Smith (39) touched down in Japan for the eighth time yesterday. He's here this time to promote his new movie "I Am Legend", which opens in theaters both here and in the U.S. on December 14. He will attend a press conference today and the movie's Japan premiere tomorrow.