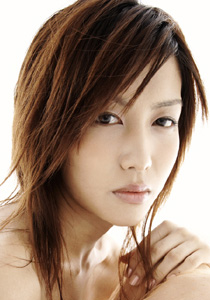 The lineup for this year's "Kohaku Uta Gassen" (Red-White Song Battle) was announced at the NHK studio in Shibuya yesterday. Among the 58 pairings are some names that haven't in the lineup in many years, while eight – comprising 67 people – will be making their debut on the year's most popular TV show. The Red Team includes a transsexual for the first time, singer-songwriter Nakamura Ataru (22, photo). Japanese family registers include the gender of all family members, so Nakamura is still officially male. But NHK said they are not making a statement or seeking publicity by including Nakamura in the female team, which included a male (comedian Gori in his Gorie-chan character) for the first time in 2005. Nakamura made his indie label debut in 2004 with the song "Tomodachi no Uta", a song he wrote at the age of 15. He switched to the major Avex label in June 2006. (Watch the video for "Tomodachi no Uta" on our Forum)
Keeping the otaku crowd happy will be idol Nakagawa Shouko (22), the 48-member idol group AKB48, and American Leah Dizon (21), who are being touted as an "Akiba Trio". Dizon has had a breakthrough year in Japan. She released her CD debut in January and has been in the media spotlight since arriving in Japan in April 2006.
Morning Musume, appearing for the tenth time in a row since their 1997 debut, are among 23 Hello! Project members in the lineup. Among the veteran names making long-awaited returns are: singer/actor Terao Akira (60), who last sang on the show in 1981; female duo Amin, who appeared once in their debut year 1982; and Kome Kome Club, one of the biggest pop acts of the 1980s and early 90s, after an 11-year absence.
• Actress Yoshimura Ryou (29) married her childhood sweetheart in mid-November, it was revealed yesterday. She is best known for her role as Kojima Ai in the long-running family drama "Wataru Sekken wa Oni Bakari", on which she debuted in 1990.
• Stars in town promoting upcoming movies: Will Smith (39) flew from the Yokota U.S. military base to central Tokyo in a Blackhawk helicopter as part of the PR for "I Am Legend", which premieres tonight and opens on December 14; Nicholas Cage (43) is here to plug "National Treasure 2", which opens worldwide on December 21 and has its world premiere in Tokyo on December 6; Rowan Atkinson (52) appeared at an event yesterday to promote "Mr. Bean's Holiday", which is in theaters from January 19.