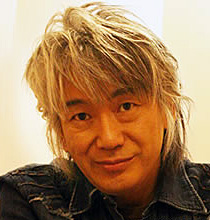 Singer Tamaki Koji (49) just can't seem to stay married. His third marriage lasted eight years, but he announced on December 1 that he had filed for divorce the same day. He made his name in the 1980s as the lead vocalist of rock band Anzen Chitai. Having become established as the backing band for singer Inoue Yousui, the group had a series of hits following the major label debut in 1982. Tamaki's first marriage, to a woman not in show business, ended in 1986. Five years later he married top actress Yakushimaru Hiroko in Hawaii. They split in 1998 and the following year Tamaki got married to Ando Satoko (50), a pianist in his touring band.
• Comedian Yoshioka Hironori (36), the "Daikichi" half of the Yoshimoto duo Hakata Hanamaru-Daikichi revealed last Friday hat he got married in mid-November. After a 12-year relationship, he and a 34-year-old Miyazaki Prefecture native tied the knot on November 18. They have been living together in Tokyo since career success led the comedy duo to move from their native Hakata to the capital in 2005.
• Pin-up girl and variety show reporter Ozaki Nana (25) has been fired by her management agency after some nude photos turned up from her past. Weekly gossip magazine "Flash" published the photos in last week's issue. On her blog, Ozaki said the pictures were taken about three years ago during her first ever photo shoot. She said she had been naive at the time and had been shocked to see the results. She followed up her online apology by asking for fans' forgiveness, implying she plans to continue her career.
• Semi-retired newscaster Kume Hiroshi (63) is to make his first TV drama appearance in 29 years. The former comedian and variety show host, main anchor for a decade on TV Asahi's popular News Station, will appear on the final, two-part special episode of "Galileo", the Fuji TV drama series starring Fukuyama Masaharu and Shibasaki Kou. The episodes will air on December 10 and 17.
• Pop stars SMAP have got their own store in Tokyo, for the season anyway. The SMAP Shop opened in the Omotesando Hills shopping complex in central Tokyo, with the first day's 2,000 entry tickets being snapped up in an hour. At the front of the line were a family who had lined up from 4am. Other fans came from as far away as Pusan, Korea. The store idea started last year and drew 50,000 fans over the Christmas/New Year season. On display in addition to the licensed goods on sale are stage costumes, illustrations by the five group members and videos of all their various TV commercial appearances. The store will be open until January 7.