TV Stars
Kano Shimai
Kano Kyoko (Osaka Prefecture, 1962- )
Kano Mika (Ehime Prefecture, 1967- )
When yet another busty young high school girl is being touted as the next big gravia aidoru (pin-up girl) and appearing on every TV show, commercial and magazine cover, it's easy to sneer and be cynical. But when it's a pair of thirty-something sisters who make a breakthrough and suddenly thousands of people are paying big money for "life consulting" seminars, dinner shows and health products as well as the usual videos, photo books, calendars and even dolls, you know there's something more going on.
When that school girl's bio says she likes Hamasaki Ayumi, karaoke and shopping with her mother, you assume it's true. Normal, typical, bland...probably true. But when the PR says things like "former Miss Japan", "honorary Bond Girls", "appeared at Cannes Festival", "spend several months a year in Monaco and other exotic locales" and so on...Well, let's just say the Kano Shimai (sisters) are not bland. They're not exactly what I'd call normal, either.
It was 1997 when the sisters made their first impression on the media. The official story goes that they were living the high-life but in a low-key way, paying the occasional bill with a modelling job here and there, but not particularly interested in pursuing fame. A feature in a popular women's magazine on their glamorous lifestyle led to letters from readers and a gradually spiralling media interest. The TV wideshows, morning and afternoon programs that feed on celebrity gossip, and weekly magazines loved their flamboyance and overt sexuality. In a country where "sexy" means the stage-managed pouting and titillation of teen idols, here were a couple of mature women whose sexiness was combined with self-assurance, independence and dollops of money.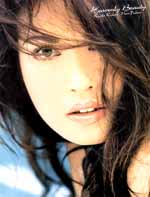 Kano Kyoko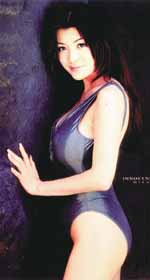 Kano Mika
A carefully maintained veil of mystery has surrounded the duo from the beginning. While a frequent claim that they aren't actually related is backed by another claim that there used to be three sisters, the official line is that they're half-sisters, having the same father. They are believed to be 43 and 38 years old (as of 2006), but typically they purr and politely refuse to divulge their ages when asked. Also, I've seen clips on TV from a soft-porn movie featuring Mika - the younger sister - looking a lot smaller in certain key areas, and both are rumored to have had a good reputation as high-class... well, let's just say "escorts".
Even the occasional investigation into the ambiguity of the sisters' past just led to more media interest and exposure, adding to their commercial "value". Unlike almost all TV personalities, they manage themselves - elder sister Kyoko the PR, Mika the day-to-day - and you have to hand it to them, they seem to have done a pretty good job of it. There have been several successful photo books, with titles like Super Beauty, A Taste of Honey and Kano Kyoko's Heavenly Beauty. TV commercials for cosmetic maker DHC featuring the sisters riding in a limo and wearing dreses that promised to reveal more than just the secret to a beautiful figure. Mika even released a music CD (which seemed to bomb) of soft R&B. A few years ago, in an effort to make their mark outside Japan, they joined up with the IMG agency, which also manages tennis's Williams sisters. It seemed they may have had their eyes on Hollywood. But presumably they found out that part of the world is already saturated with manufactured celebrities.
Summer 2008 saw them manufacture a new image for themselves in a whole new way - anime. The pair went to the Otakon convention in Baltimore to launch a DVD of their alter-egos, the Abunai Sisters. With characters by leading designer Matsushita Susumu and backing from Pony Canyon and Fuji TV among others, the collection of ten short crime-busting episodes had plenty of marketing muscle. But it was sold by pre-order and using the "group buying" system, whereby the price depends on the number of orders. A sure-fire way to protect a risky investment and encourage otakus to spread the word.
Many of their fans are female and seem to be attracted by their refusal to conform to Japanese ideas of womanhood. Japanese women want what the sisters have - the looks, the glamor, the money and the independence. While they may never have those things, they'll pay through the nose to live the dream even for a couple of hours.
Neither sister is married, which suits their custom of being seen with handsome or famous, usually western, men. Kyoko is the more romantically active and talkative. Both say they are not interested in the typical Japanese idea of marriage but would get hitched if the right prince came along (in a white stretch limo).
Personally I think they used to look good in well-taken studio photos and are well suited to the glamorous but ultimately shallow world in which they live. But the effects of plastic surgery have really taken their toll and, with the career path they've chosen, that means a lot. I was pleasantly surprised to hear that after the Hanshin earthquake in 1995, Mika donated a million yen of her own money to the relief fund. Despite the image they've carefully cultivated, no doubt they do have a more human side, but then that doesn't sell breast enlargement cream.
---
Links