TV Stars
Tamori
(Fukuoka Prefecture, 1945- )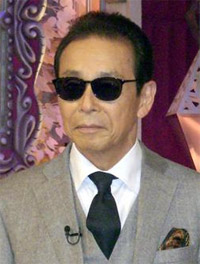 I've never met anyone who has seen Morita Kazuyoshi, better known as Tamori, without his trademark sunglasses on. In fact, caricatures featuring just the glasses and his gap-touthed smile are easily recognizable. Sometimes the pitchman on TV commercials, he is best known as one of Japan's top three comedians (along with Kitano "Beat" Takeshi and Akashiya Sanma)and the host of some of the country's longest running TV shows.
Tamori hosts one of the real institutions of Japanese TV, Waratte Iitomo (It's Okay to Laugh), which has been on the air continuously since 1982. It's long run has been recognized by the Guinness Book of World Records. Broadcast live on Fuji TV every weekday (with highlights and outtakes at the weekend) the show has several variety sections involving the studio audience but is basically a chance for celebrities big and small to plug their latest show, movie or CD. Appearing on the show is a must for visiting foreign stars, who are expected to join in the various games and quizzes they do. The show is filmed in the Studio Alta building in the Shinjuku district of Tokyo. Anyone not lucky enough to draw a winning ticket to join the studio audience can still watch the show on the giant TV screen outside the building. This has helped to make Alta the most popular meeting place in Shinjuku.
In October 2013, during the live broadcast Tamori confirmed rumors that the show was to come to an end in March 2014.
Strange though it may seem, Tamori also has a show, Tamori Club, that has been running on the rival TV Asahi channel for just as long as Waratte Iitomo. He also is a co-presenter of the Friday night popular music show Music Station (also on TV Asahi). Another popular show was Jungle TV, which aired on TBS from 1994 to 2002.
A native of Fukuoka in Kyushu, southern Japan, Morita dropped out of Tokyo's prestigious Waseda University and wandered from job to job, working as an insurance salesman, bowling alley manager and restaurant manager. But an introduction to top mangaka (cartoonist) Akatsuka Fujio led to his forming the Omoshiro Group. Akatsuka took him under his wing, let him live in his Tokyo home and even wrote his first ever TV script. Tamori made his debut in show business as a comedian in 1975. He became a presenter of the famous All Night Nippon radio show the following year. He made a name for himself on the hugely popular Uwasa no Channel comedy show.
Tamori is a keen golfer and cook, both of which skills he likes to display whenever he has the chance. Like any tarento (TV personality) that becomes popular, he has appeared in movies (over a dozen) and even released a few albums.
---
Links