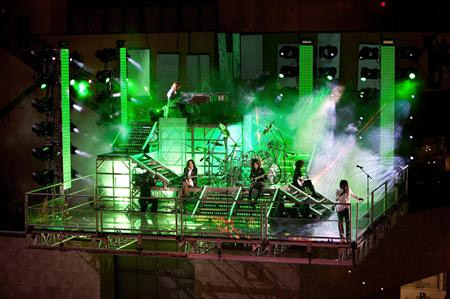 Rock group X Japan have been shaking things up recently in downtown Los Angeles. The band were in Hollywood for a weeklong promotion video shoot, at a cost of over $5 million, for their upcoming launch into the U.S. market. The first ever performance on top of the Kodak Theater was announced in late December with an open invitation to American fans to attend, though they were asked to register in advance at the J-Rock Nation website.
The band performed several songs for the weekend shoot, including "Endless Rain," "Rusty Nail," last year's comeback single "I.V." and their latest release, "Jade." The performance included lasers, flame towers and fireworks, all shot from multiple cameras and helicopters. Some 8,000 fans and passersby took in the show, which ran from late afternoon. After dark, pairs of glowsticks were given out, allowing fans to cross them in the familiar "We are X" style. Drummer and band leader Yoshiki was performing publicly for the first time since neck surgery and wore a brace throughout. Guitars once played by the late Hide were placed on stage, while his role in the band has been taken by Luna Sea guitarist Sugizo.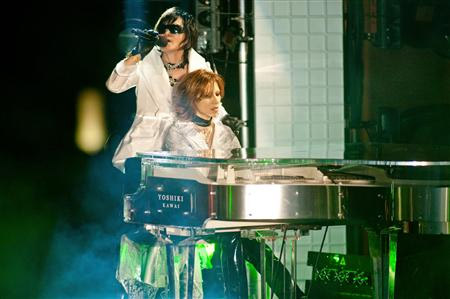 X Japan have been wanting to perform in the U.S. for almost two decades. They held a press conference in New York in 1992 but a concert tour failed to materialize before they split in 1997. After last year's reunion shows in Tokyo, they planned to perform at Madison Square Garden. But Yoshiki's health problems forced them to put that plan on ice, too. Yesterday he said, "What Toshi and I did at junior high school festivals and local culture centers, we're now doing in the heart of Hollywood. If you hold onto a dream, it will come true."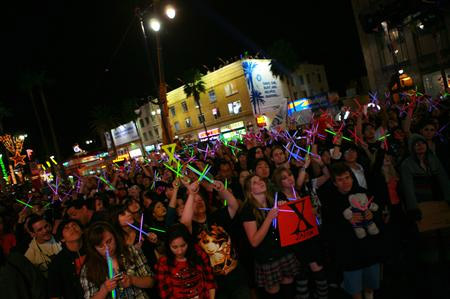 The band will continue filming for their promo videos until next month. The project is being produced by Yoshiki and directors include Dean Karr, who has worked with such artists as Marilyn Manson, Ozzy Osbourne and Velvet Revolver. An album is in the works and the band are said to be in negotiations to appear at the Lollapalooza rock festival in Chicago in August.