TBS announced yesterday that popular comedian Kasuga Toshiaki (30, photo right) fractured his leg during a recent variety show shoot. The accident happened on Tuesday during filming for the show "Oretachi! QuizMan" in Sagamihara, near Tokyo. Kasuga was doing some stuntman basic training on a suspension wire when he landed badly on a jump from a small hut. He is expected to bounce back in about a week to 10 days.
Kasuga created a unique comic character as the preening "boke" half of manzai duo Audrey, with his partner and high school friend Wakabayashi Masayasu (31, photo left). With his pink vest and techno-cut hairstyle, his arrogant manner has made him a favorite among recent breathrough acts. Off-stage he is quite different – a penny-pinching bachelor who lives in a small apartment with no bath; high school American football star who was ulled from a game for wearing indoor shos on astroturf; and he won a celebrity free diving competition with a record of 92m.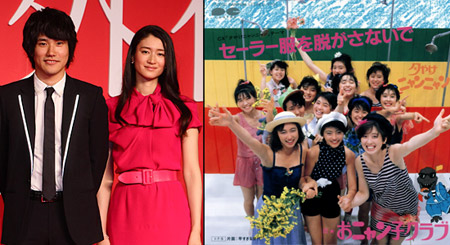 Actor Matsuyama Kenichi (24, photo left) yesterday acknowledged for the first time his relationship with actress Koyuki (33, photo center). He was appearing at a preview screening of the movie "Darekaga Watashini Kiss Shita." Though the movie is a domestic Toei Studios project starring Horikita Maki (21), it is directed by Hans Canosa, the director of "Conversations with Other Women," and already has distribution deals in Hong Kong and Taiwan. Negotiations for Europe and North America are underway. When asked by reporters if his romance with Koyuki was going well, "MatsuKen" nodded and said simply "Yes, yes." The two worked together on last year's movie "Kamui Gaiden" and rumors of romance first appeared last spring.
• Members of the legendary idol group Onyanko Club were recently reunited for a TV commercial. Of the more than 50 members of the 1980s all-girl group eleven – including Kokusho Sayuri (43), Watanabe Marina (40), Nitta Eri (41), Jonouchi Sanae (41) and Ikuina Akiko (41) – got together to shoot a commercial for Suntory's can coffee brand "Boss Zeitaku Bito." The CM takes place in a bank and features actor Ito Atsushi (26) and, in a move that will drive a lot of middle-aged otaku wild, the Onyanko ladies singing and dancing to their infamous hit "Sailor-fuku wo Nugasanaide" (Don't Take Off my Sailor Uniform, photo right). The CM will air from January 23.
Onyanko Club (literally "Kitten Club) debuted in 1985 and only lasted for two years, but their huge popularity and ever-changing lineup helped pave the way for the likes of Morning Musume and AKB48. Many members, such as those mentioned above, have gone on to build solid showbiz careers. Kudo Shizuka (39) married SMAP heartthrob Kimura Takuya (37), while Watanabe married comedian Nagura Jun (41).