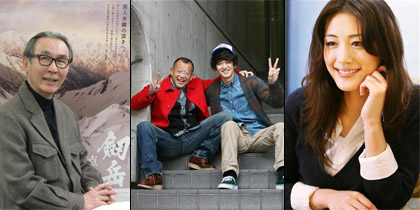 The winners of this year's Blue Ribbon movie awards were announced yesterday. Kimura Daisaku (photo left) took the best movie award for "Tsurugi Tennoki" but at the age of 70, he said he was "a bit embarrassed" to receive a best newcomer award. Though he was regarded by the great Kurosawa Akira as Japan's finest cinematographer, the movie marks his debut as a director. It has won several awards but this was the first time it was chosen as best movie. Asked about his next project, Kimura said, "I'd love to work with Takakura Ken." The two worked together on 1999's "Poppoya."
The main acting awards went to Shofukutei Tsurube (58, "Dear Doctor," photo center) and Ayase Haruka (24, "Oppai Volley," photo right). Tsurube, a rakugoka and popular TV presenter, made his movie debut more than 30 years ago and has now accumulated six awards for his first starring role as a country doctor. His co-star Eita (27, photo center) won the best supporting actor award.
Ayase, who has recently played off-the-wall characters like a cyborg in "Boku no Kanojo wa Saiboogu" and a blind swordswoman in "Ichi," said she was happy to return to a "normal" role for her latest movie. But she was less than happy about the title, which translates as "Titty Volleyball." She said, "When I heard the title, I thought it was a dirty movie. Even when I realized it was a movie about youth, I really wanted them to change the title." The best supporting actress award went to Fukada Kyoko (27) for her role as the villainess Doronjo in the live action adaptation of the "Yatterman" anime.
The 52nd Blue Ribbon awards, given out by a group of seven Tokyo-based newspapers, will be presented on February 16.
Natsu Yuusuke Dies of Cancer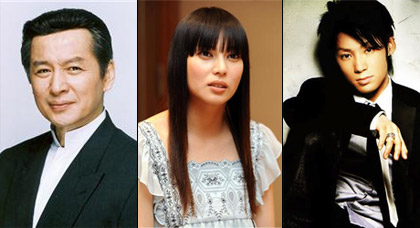 Actor Natsu Yuusuke (photo left) died yesterday morning of stomach cancer at a Tokyo hospital. He was 59. He became ill last autumn and underwent surgery at the end of the year. Real name Taura Hisayuki, Natsu started out in Osaka as the keyboard player in a band that featured the young Wada Akiko (59) as vocalist. When Wada went to Tokyo to make her pro debut, Natsu went with her. He joined the band Ox, who were part of the popular "group sounds" scene. He later moved to acting and was best known for a supporting in the popular 1980s detective drama "Tokuzosai Zensen," where he also met his wife, actress Ito Megumi (60). Their daughter is top Takarazuka actress Aika Chisaki.
Shibasaki Kou, Tatsuya Split
Actress-singer Shibasaki Kou (28, photo center) and Uverworld vocalist Takuya (30, photo right) have split up, it was revealed yesterday. The couple's relationship started in the autumn of 2008 and was made public shortly afterward, and they were often spotted out on the town together. But sources say that they have both been so busy with work that they drifted apart and finally broke up at the end of last year. 2009 was a particularly busy year for Shibasaki, who made the movie "Shokudo Katatsumuri" (in theaters from February 6), the Fuji TV special drama "Wagaya no Rekishi" (on air this spring) and went to Scandanavia to shoot the photo book "0805." This year she'll be working on the big screen adapatation of the "Ooku" period drama and embarking on a nationwide concert tour. Uverworld, who spent six months touring last year, will be on the road again in 2010, their 10th anniversary.