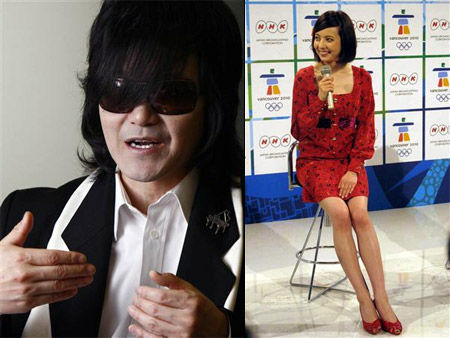 X Japan vocalist Toshi (44, photo left) said yesterday that he was recently on the verge of giving up singing and becoming a company employee. In an interview with the Sports Nippon newspaper, he said that the stress of his long relationship with his estranged wife and the Home of Heart cult had made him lose his voice and driven him to financial ruin. Earlier this week he announced his divorce and bankruptcy, and he apologized to fans and other victims of the cult, which organized self-improvement seminars.
Toshi said that he intended the recent filming of promo videos with X Japan in Los Angeles to be his final work as a musician. But during the course of the weeklong shoot he and Yoshiki discussed the matter in great depth. "There have been a lot of problems. But we decided to get back to our roots and carry on with the two of us at the core of the group. I decided I wanted to continue with music after all." He has also announced that he will hold a farewell "solo" concert on February 24, though it's being produced by X Japan drummer and band leader Yoshiki and will be an X show in all but name. "The theme is 'Samurai' – I'm in danger and the other members come to my rescue with guitars and piano. That's the image. It's a new start for me and then we'll be ready to take on the world."
• NHK is to use a celebrity presenter in its Olympic coverage for the first time. For the upcoming Vancouver Winter Olympics they chose Becky (25, photo right), who has a long history of appearing on the public network and has a wide appeal across all ages and sexes. "I love, love, love the Olympics, so this is a huge honor for me," she said. Chosen as the most popular female TV personality in a survey last August, Becky will appear mainly in the prime time "Best Selection" digest show every evening from February 14-28.
With NHK's "serious" image in mind, she said, "I tend to get carried away easily, so I hope to keep my emotions under control. I mean, this is NHK so I have to present in a relaxed and grown up way." Just in case, she'll be working alongside veteran sports presenter Kudo Saburo (56), though he said, "High tension is fine!" Referring to such young medal hopefuls as 15-year-old speed skater Takagi Miho and popular figure skater Asada Mao (19), Becky said, "It's amazing to see these athletes younger than me competing on the world stage."
• Meanwhile, another "haafu" talento has announced that she is getting married. Sheila (37) notified the media yesterday that she and a 35-year-old real estate company president are going to tie the knot on their 11-year relationship. They have already visited her mother's home of Cuba to break the news. No wedding date has been set.