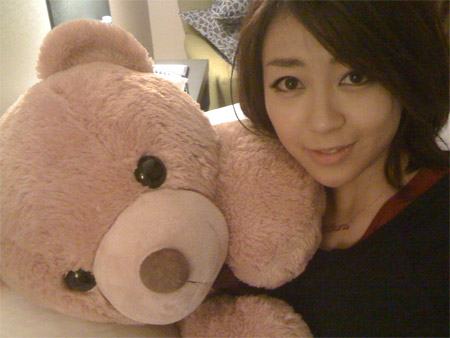 Some news on the relationships front. J-pop star Utada Hikaru (27) has broken up with the older artist (35) she had been dating for some time. In the last few months she had been busy planning her first overseas tour, her first concerts in three and a half years. Sources close to the singer say that the revival of her music career led to the couple spending less and less time together and eventually drifting apart. She updated her blog for the first time in three months on January 19 – her 27th birthday – and celebrated not with a romantic dinner but with a concert in Los Angeles, which she said was a bit "embarrassing." The current tour, which started in Honolulu on January 15 and ends in London, takes in a series of small venues of 800-1,500 capacity.
Utada (profile) became a teen J-pop sensation in 1999 when her debut "First Love" became the best-selling Japanese album of all time. She took the media by surprise when she married film maker Kiriya Kazuaki in September 2002, but they divorced in March 2007.
Amuro Tops 5 Asian Charts
Another J-pop divorcee, Amuro Namie (32), is the first Japanese female artist to top the weekly pop charts in five Asian regions. Her greatest hits album, "Best Fiction," made No.1 in Japan, South Korea, Taiwan and Hong Kong when it was released last July. But her latest release, "Past-Future," has done better still, adding the Singapore chart to the list. The album stayed at No.1 for six weeks in Hong Kong, a first for a Japanese artist, and has so far chalked up four weeks at No.1 in Singapore. Amuro is currently preparing for a massive 8-month nationwide tour that starts on April 3 and will see her perform 73 shows. Despite some rumors to the contrary, she says her recently revealed romance with comedian Tamura Atsushi (36) is going just fine.
Marines Star, CanCam Model an Item

Romance has blossomed between Chiba Lotte Marines infielder Nishioka Tsuyoshi (25) and fashion model Tokuzawa Naoko (25), it was reported yesterday. The two have been spotted out together in Tokyo and Nishioka has publicly acknowledged the relationship. The handsome baseball star was previously linked with talento Sakura (26) and pro golfer Koga Miho (27). Tokuzawa is a model for the "CanCam" fashion magazine and has been called the "Post Ebi-chan," following in the footsteps of the hugely popular CanCam model Ebihara Yuri (30).