Actor Ishida Junichi (55) and pro golfer Higashio Riko (34) headed off yesterday for a week in Los Angeles. The trip is described by the media as a "pre-honeymoon" for the couple, who recently got engaged. They have announced that they will be tying the knot in California in May and they are planning to visit the Napa Valley winery where they will hold their reception. Ishida has long been regarded as one of the playboys of Japanese showbiz. He has been married twice before and has a child from each marriage. His son Ishida Issei (35) is an established actor, while daughter Sumire (19) took a break from her modeling career last year to enter Carnegie Mellon University.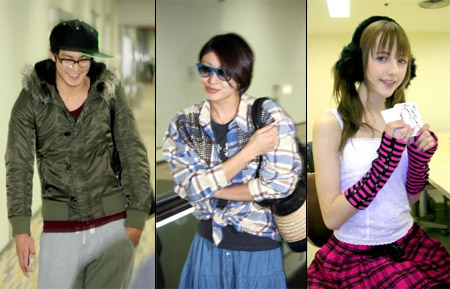 Also heading overseas are actor Oguri Shun (27, photo left) and actress Yamada Yuu (25, photo center). The couple have hardly been seen together since their romance was revealed in May 2008. Although they passed through Narita Airport separately yesterday, they were both headed for Hawaii. They denied reporters' speculation that they are on the verge of tying the knot. Another showbiz couple vacationing overseas are model Ebihara Yuri (30) and Rip Slyme musician Ilmari (34), who are in Guam.
• On her third visit to Japan, young British "kawaii" ambassador Beckii Cruel (14, photo right) has filmed her first Japanese TV appearance. She will appear Wednesday evening on the Tokoro Joji-hosted NTV show "Jinruiga Akiramekaketeita Yume." She will display some of the J-pop-inspired dancing skills that made her a huge hit on YouTube last year.
Earlier story:
Don't Be Cruel! (Oct. 26, 2009)
• More details of who got the best ratings during the recent "Kohaku" broadcast. The ratings for the New Year's Eve concert peaked at 50.1% with the headline performance of Dreams Come True, but the show was dominated by SMAP and other Johnny's Jimusho artists. The show was co-hosted by SMAP leader Nakai Masahiro, the group's performance segment had a rating of 44.6%, and their tribute to Michael Jackson reached 49.6%. Those figures are both higher than the ratings for VIP guests Susan Boyle and Yazawa Eikichi.