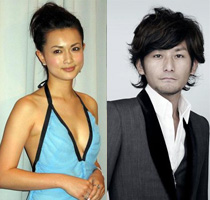 Another big showbiz couple is born – actress Hasegawa Kyoko (30) and Porno Graffitti guitarist Shindo Haruichi (34) announced late last night on their official websites that they got married yesterday. The couple first met in the spring and only started dating in July so management were quick to clarify that "Hasekyo" is not pregnant and plans to continue her acting career. The actress made her announcement in a video, dressed in white and with an all-white room as a background. She spoke of how she and her new husband have stimulated each other artistically and described their meeting as a "miracle." Haruichi proposed earlier this month but the couple made sure to visit each other's parents before taking the big step. They are both still living in their own homes in Tokyo and Haruichi went by himself yesterday to register their marriage at his local municipal office. They have yet to announce their plans for a formal wedding ceremony.
Hasegawa was a pioneer in the sense that she was one of the first fashion magazine models to achieve widespread popularity, and made her TV debut as a presenter on a Fuji TV mixed martial arts show in 1999. Her first acting role was on the same network in 2000. She switched from modeling to acting full time in 2002. Two years later she was the official queen of the TV commercial world, touting products for ten different companies. She had her first starring role in a drama series in TBS's "Oishii Propose" in 2006.
Porno Graffitti are one of Japan's most popular rock bands, made the major label debut as a trio – Shindo, vocalist Okano Akihito and former bassist Tama – in 1999, though their roots go back to their high school days in Hiroshima in the early 90s. They are now, like other "bands" B'z and Love Psychedelico, a two-piece unit who work with support musicians. They had their first of several million-sellers with their fourth single "Saudade" in 2000 and have sold over 12 million singles and albums.
• Veteran comedian Regal Shusai died earlier this month of heart failure at his Tokyo home, it was announced yesterday. He was 81. Real name Takahashi Akira, he started his comedy career in the 1940s and formed the duo Regal Tensai-Shusai in 1952. The duo were one of the more popular acts of the 50s and 60s. Feeling the broadcast media didn't give entertainers enough respect, they announced in 1970 that they would perform only on stage, a decision they reversed ten years later. Regal Tensai (real name Soga Chuichi) died in 2004 and Shusai continued as a solo performer until his health deteriorated at the beginning of this year.