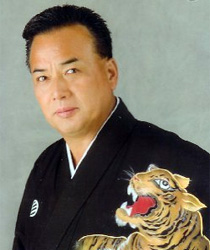 Public broadcasting network NHK announced yesterday that they have banned several popular singers from TV appearances after they were found to have associated with a known yakuza gang boss. According to this week's issue of the "Shukan Shincho" magazine, the five enka singers – Hosokawa Takashi (58, photo), Kobayashi Akira (69), Matsubara Nobue (47), Kadokawa Hiroshi (54) and Nakajou Kiyoshi (62) – took part in a golf competition in Shizuoka Prefecture to celebrate the birthday of a Yamaguchi-gumi "kumi-cho" (gang boss) in mid-September. Apart from Nakajou, the singers also attended a party after the competition. After the story was published, NHK contacted the management agencies of the singers, who each confirmed that the story was true. The network then consulted with the agencies and record companies about how best to deal with the issue. NHK has already announced that it is looking for replacement artists for the December 13 show "BS Nihon no Uta." An official said they have yet to decide on whether to allow the singers to take their usual place on stage at the annual "Kohaku Uta Gassen" live concert on New Year's Eve. A statement said, "It was decided that it is not proper for a public network to be associated with an organization that stands in contravention to the public good." In a related development, TV Tokyo announced that scenes featuring Hosokawa would be cut from a music show scheduled for October 13. Links between showbiz and the yakuza are not uncommon, though rarely made public, and the old-fashioned image of many male enka singers is not far from that worn by top gangsters who cast themselves as modern-day samurai.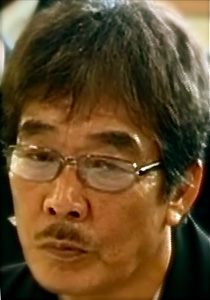 According to Jake Adelstein, a former police reporter who has also written for Shukan Shincho and does consultation work for foreign firms in Japan, the kumi-cho in question is Goto Tadamasa (photo left, courtesy of japansubculture.com), head of the Goto-gumi, a Yamaguchi-gumi organized crime group with over nine hundred and fifty members. Goto is considered to be the wealthiest and second most powerful boss in the Yamaguchi-gumi, which with 40,000 members (National Police Agency [NPA] figures) is the largest organized crime group in Japan. He also obtained a liver transplant at UCLA in 2001, after making a deal with the FBI to share information in exchange for a visa.
Goto's connections to the entertainment industry are well-known. In 2007, the Tokyo Metropolitan Police Department accidentally leaked onto a file sharing network a list of Goto-gumi's front companies. Included in the list was Burning Productions, one of Japan's biggest talent agencies and production companies. In December 2007, the NPA and the Organized Crime Control Bureau Section Three of the TMPD asked the National Association of Commercial Broadcasters to cease and desist relationships with organized crime members and affiliated entities. Burning Productions was not listed in the letter that was sent to the association but detectives in the TMPD assert that this was understood.
"NHK's ban on singers who have associations with organized crime members represents a major change in the Japanese public's attitude toward organized crime. NHK is a quasi-public entity, and the decision may also reflect the Japanese government taking more of a non-tolerance policy towards the yakuza and those that associate with them," says Adelstein. Adelstein has posted an English translation of a NPA file which discusses Goto's entertainment industry connections, on japansubculture.com.
• Rock band X Japan are said to be negotiating with Chinese authorities to hold a concert at the Olympic stadium in Beijing next spring. Once details have been finalized, leader Yoshiki plans to visit Beijing and hold a press conference. The so-called "Bird's Nest" stadium can hold up to 80,000 people, which would make it the biggest concert ever for the band.
• NTV announcer Suzue Nana (28) and an advertising company employee (30) got married on Tuesday, the network said yesterday. The two have been friends since university and had dated for about a year and a half. Suzue is a regular on several shows, including "News Zero" and "Nihonshi Suspense Gekijo."
• Actor Yagami Ren (22) was recently spotted spending the night a tthe Tokyo apartment of talento Ono Mayumi (27), according to this week's issue of "Friday" magazine. The two are thought to have been dating since they appeared together in the April drama "Tokyo Ghost Trip." Yagami is also a member of the pop group PureBOYS.