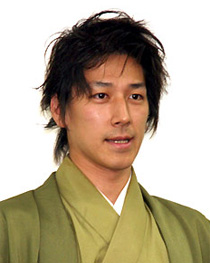 Kyogen-shi Izumi Motoya (34) just seems to be a magnet for bad publicity. He recently had another brush with the law, as revealed by the Tokyo Metropolitan Police today. Motoya was nabbed for ignoring a traffic signal in the center of the capital in the late afternoon of October 14 and received a ticket. He turned left while the signal was green only for through traffic, and when he was stopped by a motorcycle cop he explained that he was on his way to pick up his children. Motoya was previously arrested and fined in 2005 for failing to pay a parking ticket for more than two years. He's also been in trouble with the tax authorities and has had several run ins with the elders who administer his traditional form of theater. His relationship with his mother, Setsuko, and his shotgun marriage to actress Hano Aki has constantly been a favorite target of the gossip magazines.
• Singer Takeuchi Mariya (53) is the first artist in their 50s or older to stay atop the Oricon album chart for three weeks. Her triple hits album "Expressions" was produced by her husband, singer Yamashita Tatsuro (55), with whom she duets on the track "Let It Be Me." meanwhile Korean stars hold the top two spots on the singles chart. Five-member group Tohoshinki are at No.1 with "Jumon – Mirotic," while Lee Byung Hun (38) is in the second spot with his Japanese song "Itsuka."
• Rockers Motley Crue gave a press conference in Tokyo yesterday ahead of their first Japan tour in three years. The band will play Zepp Fukuoka tonight, then head to Hiroshima (Oct. 22), Nagoya (Oct. 23), Osaka (Oct. 25), and finish off at Saitama Super Arena on Oct. 26.