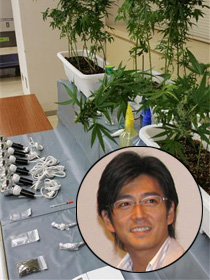 Actor Kase Taishu (38) has been arrested on drug charges. Acting on a tip, police visited his Tokyo apartment on Saturday evening. They found amphetamines in an envelope on his living room table and marijuana in the bedroom, as well as various drug paraphernalia. They also found 25 marijuana plants growing in a closet. Urine tests were positive for amphetamines and the actor was arrested for possession and use. Kase, real name Kawamoto Nobuhiro, made his movie debut in 1990 when he starred in the hit movie "Inamura Jane" and with his good looks soon had a legion of female fans. But the following year he was caught up in a legal dispute when he tried to change management, with his former agency claiming ownership of his stage name. Kase finally won the case at the Tokyo High Court in 1995, but his reputation was in ruins. He finally moved to Taiwan, where he established himself as an actor. He married in April 2000 but almost immediately afterwards it was revealed that he had fathered a child with another woman, and his marriage ended in December 2001. He has recently been appearing in the TBS afternoon drama series "Kippari!!" TBS immediately canceled the ongoing second season of the show, which was struggling in the ratings anyway, and are to rerun last year's series.
• It was announced this morning that the latest big screen anime version of "Evangelion" is to be released in the early summer of 2009. The September 2007 release "Evangelion Shin Gekijoban: Jo" (New Theatrical Version: Beginning) was the first of a series of four movies to be directed by Anno Hideaki. The second episode, which features an appearance by popular character Asuka Langley Soryu, is entitled "Evangelion Shin Gekijoban: Ha" (New Theatrical Version: Destruction). The Evangelion franchise was born as a manga in 1995 and has become hugely popular, with a multitude of spinoffs in various media. The first three of the latest movie series are a retelling of the TV series and feature new scenes, characters, and more advanced CG technology. The fourth film will present a totally new ending to the story. The series is also meant to be more accessible to movie fans who are not familiar with the complex world of Evangelion.
• Hollywood actor Watanabe Ken (48, profile) is to take on his first Japanese TV drama role in two years. For the TV Asahi series "Hiratsuka Hachibe no Showa Jikenshi" he will play the real-life detective Hiratsuka, who was involved in many of the high-profile crime cases of the postwar period. The series is to air next year as part of the TV network's 50th anniversary plans, though specific dates have yet to be announced. Based in Los Angeles, Watanabe has spent the last year and a half working on the movies "Cirque Du Freak" and "Shanghai."
• Actress Sada Mayumi (31) got married on October 1, her management agency announced on Saturday. Her husband is said to be 35 and not in showbiz. Sada was previously involved with Hiro (39), leader of the J-pop group Exile and president of her agency. They split up last year and this March she was linked with Kiriya Kazuaki (40), the ex-husband of singer Utada Hikaru (25). Sada started her modeling career at the age of three and crossed over to acting in 2004. She has roles in two upcoming movies: the Ayase Haruka vehicle "Ichi" later this month, and the comedy "Handsome Suit" in November.
• Singer Ohshima Hanako (34) is pregnant with her first child, she revealed on a regular radio appearance on Sunday. She says she plans to continue working until a scheduled concert at the end of December, and the baby is due in March. Ohshima is the daughter of legendary singer Sakamoto Kyu, the only Japanese to have a No.1 hit in the U.S. She married the owner of a Brazilian jujitsu dojo in 2006.