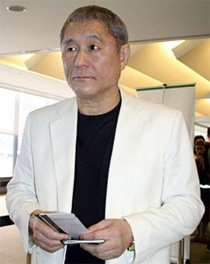 As he departed Japan yesterday to attend the upcoming 65th Venice International Film Festival, Kitano Takeshi (61) made the first public mention of his next movie project. He's off to Venice for the seventh time, with his latest movie "Akiresu to Kame" (Achilles and the Tortoise) entered in the main competition. Asked if he was nervous, he said, "It's been, what 10 years now. I was nervous with 'Hana-bi' (which won the coveted Golden Lion in 1997) but I've been to lots of different competitions and festivals in the last ten years. So it's nothing new to me anymore." The festival takes place from August 27 to September 7. Once that and the opening of the new film on September 20 are out of the way, he plans to get stuck into his next project. At Narita Airport yesterday, he said it will be a samurai drama but completely different from his 2003 hit "Zatoichi." That film was a huge commercial and critical success – it won the Silver Lion director's prize at Venice – but Kitano's other work in the decade before and since has been a frustrating diversion into arthouse and the downright bizarre. He's not one to pander to public tastes and he continues to insist that he doesn't care about the movie market, but it may be time for him to come out with another commercial success or risk tarnishing his reputation further.
Meanwhile, asked about the career of Yamamoto Mona, the announcer who can't seem to keep away from married men and is represented by his Office Kitano agency, Kitano said he has no plans to get her career back on track this time. He supported her through a similar incident a few years ago but this time says, "We represent her and if necessary we'll discipline her. But it hasn't reached that point. The whole thing became such a big deal, it's best to wait until things calm down."
• The audience rating figures are in for the recently completed Beijing Olympics. The highest rating was for the August 8 opening ceremony on NHK, watched by 37.3% of households. Sunday's closing ceremony drew a rating of 25.1%. The only sports event that drew a rating over 30% was when the Japan women's softball team won the gold medal in a major upset over a U.S. team that was previously unbeaten for 22 games. The highly anticipated women's marathon suffered from the pre-race withdrawal of 2004 gold medalist Noguchi Mizuki due to injury and the fact that Tosa Reiko pulled up in agony half way through the race. NTV's coverage of the event, the only non-NHK broadcast in the top 10, drew a rating of 28.1% but no doubt that figure dropped considerably after a tearful Tosa pulled out.