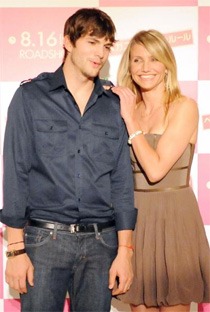 The Hollywood stars in Tokyo this week include Cameron Diaz (35) and Ashton Kutcher (30), in town to promote the romantic comedy "What Happens in Vegas." The pair were at the Imperial Hotel yesterday for the movie's Japan premiere press event. The story revolves around a drunken decision to get hitched in Las Vegas, and Diaz said she's only ever had one drink-induced blackout – it came when she was 16 and working as a model in Japan. She clearly still loves the place as she's been here the last six years running. Kutcher is here for the first time and is accompanied by his wife Demi Moore (45). The movie opens on August 16.
Also at the Imperial Hotel yesterday were Brendan Fraser (39), Michelle Yeoh (46) and Isabella Leong (20), here for the premiere of "The Mummy 3: Tomb of the Dragon Emperor." Fraser was in comical mood for the event, but remembering his leading man persona quipped, "I am the luckiest man in Japan to be sitting between the two most beautiful women in existence. Thank you!" On stage, Yeoh was delighted to receive a birthday cake one day early. Known in Japan as "Hamanaputra 3," the movie opens on August 16.
• The recent scandals involving TV personalities in extra-marital affairs took a unexpected twist yesterday. When a Fuji TV announcer was caught in the act at the end of June, TBS president Inoue Hiroshi (68) said such things wouldn't happen at his network. But just days later, TBS announcer Aoki Yuko (25) was on the verge of resigning over just such a scandal (though she reversed her decision two days later). And today's issue of weekly magazine "Shuukan Shinchou" claims that the latest philanderer is none other than Inoue himself. The magazine includes photos of Inoue and a woman said to be in her early 40s holding hands as they leave a Tokyo restaurant at the end of July. For several nights running, the woman visited Inoue's home in Meguro, while his wife lives at their other home in Bunkyo ward. Inoue claims that the woman is an interior decorator and was helping him redesign his home. TBS have so far refused to comment on what they describe as a private matter.
• Last night Johnny's Jimusho idol group KAT-TUN finished their nationwide tour at the Tokyo Dome. They are first Japanese artists to ever play four consecutive nights at the 55,000-seat venue. Only Sting has played there four nights in a row, in his solo heyday back in 1988.
• The daughter of rock legend Yazawa Eikichi (58) launches her own music career today. With Yoko (22) on vocals and the backing of heavyweight label Avex, new band The Generous will no doubt attract plenty of media attention. Their first release, "Himitsu no Basho" – a piano-based ballad and a long way from Ei-chan's brand of rock – is available from today as "chaku-uta" mobile phone download. A mini album is scheduled for release at the end of October, with a debut single likely in early 2009. Yoko is said to have first aspired to a singing career in her early teens, when she spent six years in Los Angeles. At that time she received voice training lessons from Seth Riggs, the vocal coach for such stars as Madonna and Ray Charles. She returned to Tokyo in 2004 to study at Sophia University but continued to perform and record demos. Quite a different start from that of her father, who arrived in Tokyo from Hiroshima in 1968 with a guitar and ¥50,000 in his pocket.
• Actress Sendo Akiho (39) has had her first child. She announced yesterday on her official website that she gave birth to a baby girl on Monday. She and her husband (35), who is also the president of her management agency, have been married since 2000.