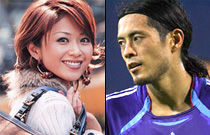 Actress Hatano Hiroko (32) and J-League soccer player Suzuki Keita (27) are engaged to be married, it was revealed yesterday. The two started dating last year. Hatano was a top model with the popular fashion magazine JJ before entering showbiz, making her acting debut in the drama "Salaryman Kintaro" in 1999. The same year, she made a name for herself when she took over from Fujiwara Norika as a presenter on the "SRS" martial arts show. She appeared in several drama series before choosing retirement following her marriage to actor Kashiwabara Takashi (32) in June 2004. But a year later she was back at work and their marriage ended in February 2006. Suzuki is a defensive midfielder with Urawa Reds and the national team. He played for his country at the 2004 Olympics and has had 28 international caps since 2006.
• It seems that NHK have forgiven singer Kikkawa Koji for his past misdeeds. Famously banned from the national network following an incident in 1985, he has been named to a key supporting role in next year's taiga drama. "Tenchijin" will star Tsumabuki Satoshi (27) as Naoe Kanetsugu (1560-1620), a retainer to the Uesugi clan, while Kikkawa (43) will play warlord Oda Nobunaga (1534-82). The cast also includes Tokiwa Takako, Abe Hiroshi, Matsukata Hiroki and Nagasawa Masami among other top stars. The year-long series started filming this week and will air from January 2009. Kikkawa incurred the wrath of NHK when he appeared on the annual "Kohaku Utagassen" on New Year's Eve 1985. As he sang the song "Monica" he sprayed champagne on the stage and set it alight, causing a major disruption to the live broadcast. The role as Oda is his first in a drama since NHK gave him a break in 2002 with a part in the series "Mayonaka wa Betsu no Kao."
• The four members of pop group Speed are to get back together for NTV's 24-hour telethon on August 30-31. It will be their third reunion since they officially split in 2000. Member Imai Eriko (24) says she wants to give her young son, who she revealed for the first time is deaf, a chance to see her perform. Imai and musician Shogo of the group 175R divorced last September. Speed will perform a medley of their hits at the Nippon Budokan on the afternoon of August 31.
• Korean star Ryu Siwon (35) was at the same Budokan for the third time last night for the first of three shows to round off his "Motto Motto" Japan tour. He performed 20 songs including his latest, "Kimi to Boku." He announced that later this year he will be the first Korean actor to play at Tokyo Dome, with two shows on December 23-24.