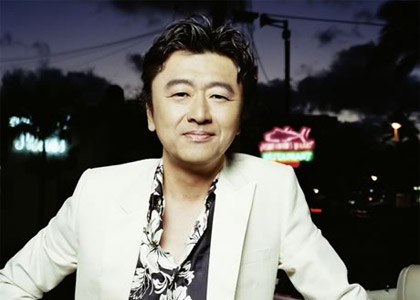 Management for Kuwata Keisuke (54) yesterday announced that the popular singer has been diagnosed with esophageal cancer. They said that the condition had been discovered at an early stage and would most likely respond well to treatment. Kuwata will undergo surgery and further treatment, so the release of a new solo album that had been scheduled for October 20 has been canceled, as have all the dates of a concert tour that was to run up to New Year's Eve. However, his new single, "Honto wa Kowai Ai to Romance" will go on sale as planned on August 25.
On his official website, Kuwata apologized to fans in the typically humble Japanese fashion, "At this time, I'm very sorry for the worry I have caused. And I want to sincerely apologize to everyone who was looking forward to this year's events. I will do my utmost to get back to good health and deliver the album that is in progress as soon as possible.""
Kuwata is the charismatic frontman for the hugely successful band Southern All Stars (profile). He has performed solo on and off over the course of his career, but SAS announced in 2008 that they were taking an indefinite break from performing together. Kuwata is married to SAS keyboard player Hara Yuko.
Other celebrities who have revealed their battles with esophageal cancer in recent years include actor Fujita Makoto and conductor Ozawa Seiji.