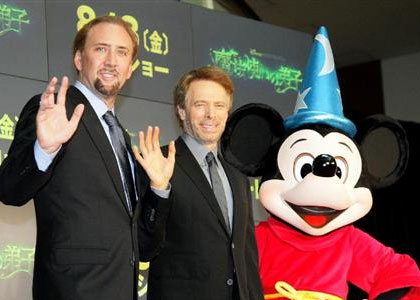 With Leonardo Dicaprio and Watanabe Ken in town the day before, Tokyo is having a bumper week with Hollywood celebrities. Nicholas Cage (46) was the latest arrival, visiting the Cinema Mediage complex in Odaiba for the premiere of "The Sorcerer's Apprentice." He was joined on stage by producer Jerry Bruckheimer (64) and Mickey Mouse, the star of the 1940 animation feature "Fantasia" from which the new movie is derived. Directed by Jon Turteltaub, the movie opens in theaters here on August 13. Both critically and, so far, commercially the movie has proved to be the fourth disappointment in a row for the Bruckheimer-Disney dream team.
It's Cage's 7th visit to Japan but his first in three years. So he took his time greeting the 350 or so fans who lined the 30-meter red carpet. Over the course of half an hour, he shook hands, signed autographs and even gave the occasional hug. During his two-day visit, Cage also took time to visit the Hie Jinja shrine in Akasaka.
Japan's Chanson Pioneer Dies
Ishii Yoshiko, Japan's leading singer in the French style of chanson, died of liver failure at a Tokyo hospital on July 17, it was announced yesterday. She was 87. She entered hospital about a month ago but until last week was hoping to recover enough to return to work. The daughter of a leading politician, she went against her parents' wishes to become a jazz singer after WWII. But after she encountered chanson while vacationing in France, she moved to Paris where she lived for six years. From 1963, she produced an annual "Paris Matsuri" in Tokyo. And in 1990, she became the first Japanese singer to take the stage at the Paris l'Olympia theater.
Former J-Pop Star in Mistress Fraud
Former J-pop singer Uehara Azumi (26) has become involved in organized fraud, according to today's issue of the weekly "Shuukan Bunshun" magazine. The story reports that a crime group swindled several men out of about 6yen;20 million through so-called "aijin keiyaku" (mistress contracts) using Uehara as the bait. In one case, she maintained a relationship, mostly through online contact, with a married man and received ¥2.5 million. The magazine says the relationship was consummated only once, following which Uehara cut off all contact with the man.
Uehara found overnight success as a 17-year-old when her debut single was used as the ending theme to the "Meitantei Conan" anime series. She went on to release 8 singles and 2 albums, but is said to have been emotionally unstable. She hadn't worked as a singer since the October 2006 release of her second album. Uehara's management agency said they had been unable to contact her, but they terminated her contract on Monday.