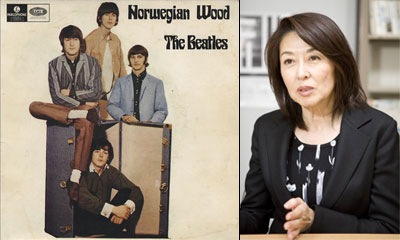 In a marketing coup, producers of the movie adaptation of Murakami Haruki's "Noruwei no Mori" have obtained permission to use the Beatles song from which it takes its name as its closing theme. It is just the second Japanese production to have been granted the honor (the other was Shinoda Masahiro's "Akuryoto" in 1981), and only the fourth in all. The decision is said to have come after extended negotiations with Apple Records and Sony Music. It is the first time for Murakami's legendary 1987 novel to be filmed. It has sold over 10 million copies in Japan alone and has been translated into 36 languages.
The story follows businessman Watanabe Toru's nostalgic recollections of the late 60s, memories revived when he hears the Beatles' song "Norwegian Wood" while on a flight to Germany. It stars the highly regarded young actors Matsuyama Kenichi (24) and Oscar nominee Kikuchi Rinko (28). Jonny Greenwood of the British rock band Radiohead, who won a Grammy for his soundtrack to the Oscar-winning "There Will Be Blood," has written the music. With Vietnamese-born French director Tran Anh Hung at the helm, filming took place early last year and the movie is due to be released in Japan on December 11.
Murakami is famously protective of his work and has previously only allowed one to be put on celluloid, a 2004 movie version of the short story "Tony Takitani."
Related stories:
Matsuken, Rinko Land Choice Roles (May 15, 2009)
Producer Oshima Eiko Dies at 73
Movie producer Oshima Eiko, sister of influential director Oshima Nagisa (78, profile), died of lung cancer at a Tokyo hospital on July 8, it was reported today. She was 73. Eiko was a producer of several of her brother's movies, including "Natsu no Imoto" (Dear Summer Sister, 1972) and "Gohatto" (Taboo, 1999). She also worked with him as an actress, appearing in "Shiiku" (The Catch, 1961).
Tamaru Misuzu to Step Down at TBS
Newsreader Tamaru Misuzu (58, photo right) is to step down as presenter of the TBS show "Joho Tokushu." The network has decided to overhaul the show and reached an agreement with Tamaru, who has been caring for her sick mother for several years. She has been the face of the show for 16 years, but from the end of September she will be replaced by TBS America general bureau director Kanehira Shigenori (56).