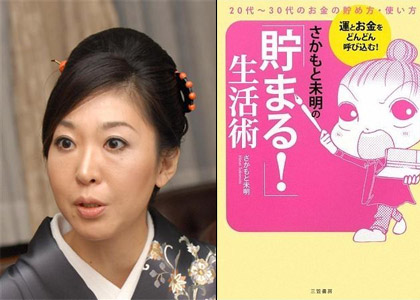 Popular manga-ka Sakamoto Mimei (44) has been sued for an alleged affair with a married doctor. The lawsuit was filed at the Tokyo District Court by the wife of the doctor who heads a clinic where Sakamoto had been undergoing treatment for collagen disease, and where she organized a charity event in May. The doctor's wife is seeking ¥11 million in damages. Management for Sakamoto has denied that there was any affair, saying "There has been a series of misunderstandings and we hope to deal with this in good faith."
Real name Anzai Akemi, Sakamoto made her artistic debut in 1989 and married the same year. A year later she was divorced but gradually built up a following through her manga strips in women's comics. She later became the autor of erotic novels and has posed nude for a book in 2003. She is a regular commentator on the NTV morning show "Sukkiri!!"
SMAP Album, Tour and Sports Drink
News has come out of a concert tour to support the first album by super-aidoru group SMAP in two years. The double album "We are SMAP!" is due for release on July 21. It features collaborations with such artists as Daniel Powter, Rip Slyme and Love Psychedelico. The group have also collaborated with the Asahi Inryo beverage company to produce a new sports drink by the same name. The initial launch will see 10 millions bottles sold. A similar tie-up with Kirin Beverage in 2002 saw the sale of 8.4 million bottles of the "Drink! SMAP!" soft drink.
The "We are SMAP! Tour 2010" will kick off on July 31 with two nights at Sapporo Dome, followed by four nights each at the Fukuoka Yahoo! Japan, Nagoya, and Kyocera (Osaka) domes, and finishes with five nights at Tokyo Dome.
Nagoya Cinema Aims to Balance Dolphin Debate
A movie theater in Nagoya has decided to balance its upcoming screening of Oscar-winning documentary "The Cove" with a Japanese movie about the country's whaling industry. Nagoya Cinema Take, one of the small number of theaters that have decided to screen the Hollywood feature about the dolphin slaughter in the town of Taiji, Wakayama Prefecture, will also show "Kujiratori no Umi" (Whalers and the Sea, 1998). Though people will need to leave the theater between films and pay separately for each, cinema manger Hirano Yuji said, "There are viewpoints that can't be seen from watching just one movie. We hope people will watch both."
The Japanese movie, directed by Umekawa Toshiaki, features scenes shot on a Japanese research whaling ship, and former whalers from Taiji talking about the history and the state of affairs of their industry at the time. Nagoya Cinema Take, a small theater with a seating capacity of 40, is scheduled to show the movies from August 14.
FunMon Hits Album Best Seller So Far in 2010
It's an indication of the current state of CD album sales that the biggest release of the year has only broken the half-million mark. "Funky Monkey Babys Best," the greatest hits album by the hip hop trio, is the best-selling album of the last six months, according to Oricon. But the album, which was released in February, to date has sold about 548,000 copies.